Kieran Morgan retires after nearly four decades of service at Scottish Water
15 April 2022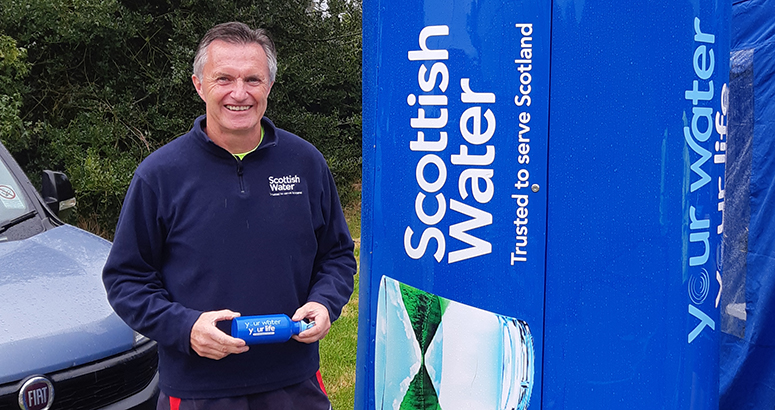 Kieran Morgan Retires
Kieran is planning to use his retirement to indulge in his hobbies of running, golf and music
Kieran Morgan, from Saline, Fife, is celebrating his retirement after nearly four decades of service at Scottish Water.
Kieran, who is retiring on his 62nd birthday, joined the water and drainage department at Central Regional Council on 16th May 1983 after studying civil engineering at the University of Edinburgh.
Despite Kieran's degree, he originally aspired to do something a bit different. "My first job out of uni was working in Sleeves Records in Kirkcaldy. I liked that rock and roll lifestyle but it didn't quite pay the bills so I started my engineering career with Central Regional Council."
His first major project was as a civil engineer on a new waste water treatment works in Bo'ness.
He said; "As a young engineer at the council, my focus was on getting the civil engineering design technically correct and, at that time I possibly didn't appreciate the wider long term impact such works would have on the area. On the Bo'ness project, I learned that we needed to do more when working in a community. Over time, the works played a part in helping regenerate a former industrial site and included a coastal path past the works which I still enjoy running on."
This desire to leave a positive legacy has been continually applied by Kieran in all the projects he has embarked on.
He said; "I try to emphasise the importance to my colleagues of developing good working relationships internally and externally. For example, when working on private land and within communities we should view it as if we are working in someone's garden. We once redesigned a pipeline after a farmer explained that the proposed route would go straight through the land where they had buried the family sheepdogs for decades. Small changes like this make all the difference when developing working relationships and in determining whether Scottish Water enhances its reputation, or not."
Throughout his career, Kieran has been at the forefront of pioneering new approaches old problems.
In the late 90's, he was part of a team that installed one of the first Sustainable Urban Drainage ponds in Scotland. These ponds help to reduce the impact of surface water from new developments on the environment and can now be found on new developments across the country.
This project and the unification of the three regional water authorities in 2002 led him to literally write the book on sewers in Scotland.
He said; "In 2000, I chaired a team from the North, East and West water authorities to write the first "Sewers for Scotland" document on sewer design and construction. I only recently discovered from my daughter that I am a bone-fide author as a result of this being published. I never thought I'd have that on my CV!"
Kieran's commitment to his role, led to him becoming a Fellow of the Institution of Civil Engineers in 2005. This particularly recognised his work at that time in projects across Aberdeen and Dundee.
Reflecting on his career he said; "I have really enjoyed working at Scottish Water. There have of course been stressful times but the people I have worked with, the support I've been given and the company's commitment to caring for communities and the environment throughout Scotland, are what have kept me here for my entire career."
Ewan Robertson, Specialist Services General Manager at Scottish Water said; "Kieran has been an inspiring leader and a great friend to me and my family and will be sorely missed."
Kieran is planning to use his retirement to indulge in his hobbies of running, golf and music. He runs with Carnegie Harriers, has recently joined the committee of Saline Golf Club where he has been a member for 30 years and enjoys playing trombone and euphonium with The Really Terrible Orchestra in Edinburgh and Dunfermline Town Brass Band.