Elaine Noble retires after 42 years at Scottish Water
19 April 2022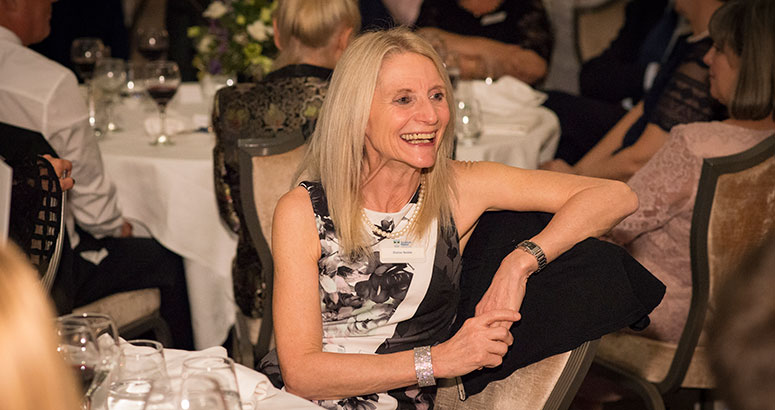 Elaine Noble retires
The public health science team manager is hanging up her lap coat after 42 years.
Elaine Noble from Tranent, East Lothian is hanging up her lab coat and hi-vis after 42 years service with Scottish Water.
Elaine, 60, is a Team Manager in the Public Health Science Team for the Southeast of Scotland. She first joined Lothian Regional Council in 1979, the same year the Gloria Gaynor released 'I Will Survive'.
Channelling the spirit of the song, Elaine has enjoyed a long career at Scottish Water however, she originally had other ambitions.
She said; "When I left school, I wanted to become a PE teacher and was preparing to apply to university. One day, a friend mentioned to me that the council had a new training programme for young people interested in the sciences. I thought, I can do that! And that's where my career started." Elaine embarked on the Super Tech training programme at Lothian Regional Council which took her to school labs across the Lothians and put her through college. With these new skills under her belt she replied to a vaguely worded job advert for a role in the water and drainage department. After arriving on her first day, she soon found out why it had been so vague. She said; "I didn't really know what the job was... until the smell hit me. I had to collect raw concentrated sewage samples to analyse. While it was horrifically smelly, the bright side is, I've not been travel sick since!
Recognising Elaine's potential, her managers agreed to put her through a bachelors degree in Life Sciences and masters degree in Instrumental Environmental Analytical Chemistry at the Glasgow Caledonian University. This gave her the knowledge needed to join the Public Health Team which is responsible for ensuring compliance with any current and future water regulations.
When asked about her biggest achievement in the team, she spoke about her involvement on the project for the New Glencorse Water Treatment Works which supplies the majority of Edinburgh's water, she said; "I remember standing inside the enormous treated water tank before it was commissioned and reflecting on the just how important and how challenging it is to keep that much water clean. To think that I played a role in ensuring that happens is incredibly rewarding."
Elaine prides herself in her relationships with colleagues. She said: "The people are what make Scottish Water such a good place to work. I've been a union representative for the past 29 years and have helped put policies and procedures in place which have helped maintain and improve conditions for my colleagues.
Reflecting on retirement and her next steps, she said; "It was incredibly difficult for me to decide it was time to retire. The pandemic brought home the importance of seizing the day and it prompted me to retire while I am still fit and healthy.
I have really loved working at Scottish Water. The diversity in my role in Public Health has made it really interesting and I am proud that I have made a difference while providing support and advice to colleagues, customers and other organisations in all water quality and public health related matters.
I will also really miss the social side of work. Where I live in Tranent I know so many people through work and regardless of where I am in the world, I am always bumping into familiar faces.
have three key priorities for retirement, my partner, my family and being in the hills. I have a huge family and my partner lives in the heart of the Swiss Alps. I can't wait to spend more time climbing mountains, travelling, and seeing loved ones."