Portree Pupils Launch Skye's new Top up Tap with Sustainability Message
13 June 2022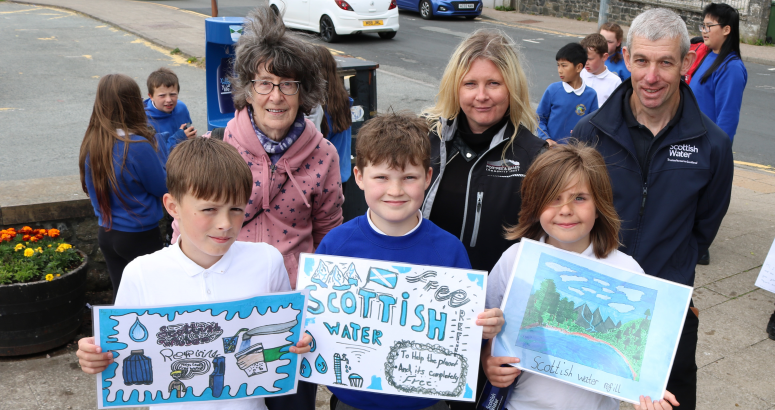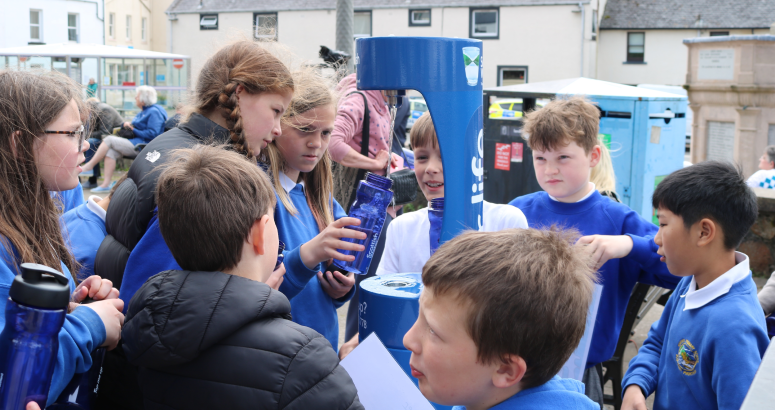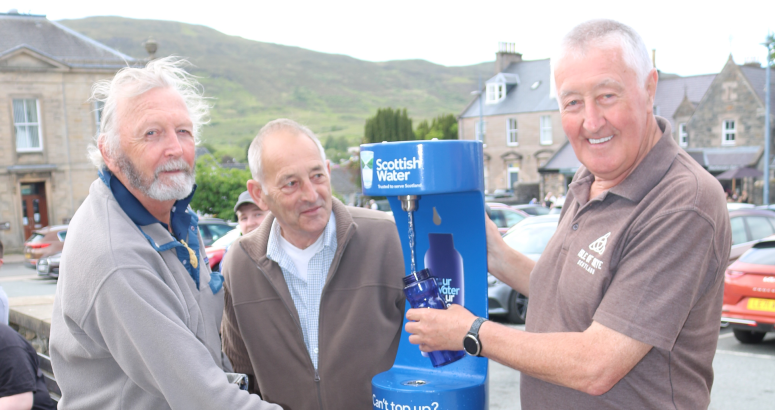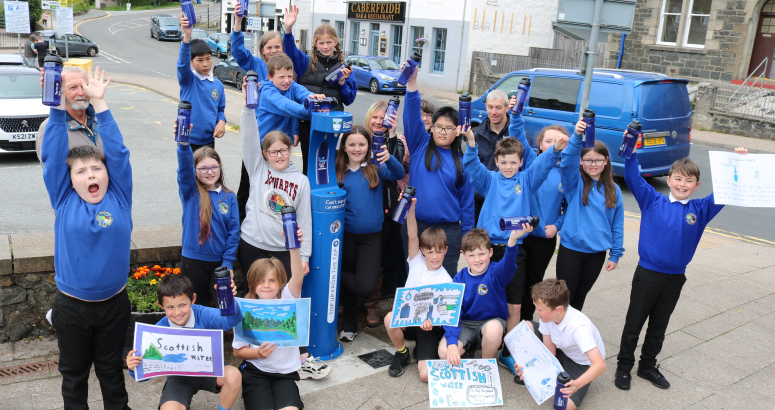 Skye's new Top up Tap flows
Pupils from Portree Primary School, community representatives and members of the public put the new water refill point in Somerled Square through its paces
"From very early on, one of Skye Climate Action's aims was to get people to cut down on single use plastics so we are delighted to see the Top up Tap in Somerled Square which helps people to do just that"

Margaret Ferguson
Skye Climate Action
Local school children in Portree are helping spread the word about the town's new Scottish Water Top up Tap – aimed at helping residents and visitors stay hydrated on the go.
The free water refill point has been installed in Somerled Square and P6 pupils at Portree Primary School took part in a poster competition as part of its official launch to help promote the new facility.
Jonathan Langlands' poster was the judges' first choice, with classmates Finlay Constant second and Adaidh MacIsaac in third place. The poster designs encourage people to top up for free using refillable bottles and reduce single-use plastic waste.
The pupils joined Margaret Ferguson of Skye Climate Action, Annmarie Campbell from Portree and Braes Community Trust and local Community Council Acting Secretary Roger Liley, as well as some of Scottish Water's local team, to launch the tap.
The Community Trust first approached Scottish Water on behalf of Skye Climate Action about getting a tap for the Skye capital. Highland Council gave approval for the Tap's connection to its existing water supply in the square, helping to avoid the need for an additional road crossing to access the nearest public water main.
Local Scottish Water field response team leader James MacInnes said: "We are delighted to have launched one of our sought-after Top up Taps in the busy centre of Portree - to help residents and visitors stay hydrated while on the go. We want to help make it easier for people to cut down on single-use plastics so everyone can help keep our beautiful island litter free. Using a refillable water bottle to top up from the tap is good for the environment, good for your health and good for your pocket.
"It is one way that visitors and locals alike can help reduce our impact on the environment we all want to protect and enjoy. We want people to take advantage of our clear, fresh, great-tasting drinking water to stay hydrated, but we are also encouraging everyone to be mindful about the way we all use this incredibly important and precious resource.
"Despite the rainfall we get, there are many areas of Skye where water resources are under real pressure in the summer - when we get periods of warm, dry weather and a significant increase in the island's population. Small changes like using a water butt and a watering can instead of a hose in the garden; using a basin to wash dishes; or having a shorter shower can add up to a big difference – easing the pressure on our environment and saving drinking water for its most important purpose."
Margaret Ferguson said: "From very early on, one of Skye Climate Action's aims was to get people to cut down on single use plastics so we are delighted to see the Top Up Tap in Somerled Square which helps people to do just that.
"It has been great to see the enthusiasm of the young people in the town for the tap today and I am sure it will be a well-used facility - making it easier and more convenient for people to stay hydrated and helping encourage them to get into the habit of carrying a reusable bottle when they leave the house."
Annmarie Campbell of Portree and Braes Community Trust added: "We are delighted that Portree has been selected as the most recent location for installation of a Scottish Water Top Up Tap. This will undoubtedly help locals and visitors reduce their usage of single use plastic and help to keep Portree and the wider island clean and tidy.
"Well done to Skye Climate Action for initiating discussions about a potential tap for Portree back in 2020 and thank you to the Scottish Water team for making it happen."
The free water refill points are part of the publicly-owned water company's Your Water, Your Life campaign which aims to get people using Scotland's world class tap water, while also reducing single-use plastic waste by encouraging the use of refillable bottles.
Over 70 taps have now been installed at sites across Scotland including harbours, beaches, national parks, botanical gardens and other top tourist attractions. The Portree tap is the seventh so far in the Highland Council area, with more on the way.
More information about Scottish Water's Your Water Your Life campaign can be found at
www.yourwateryourlife.co.uk
.