BLOG: What do we do with all this water? – Brian McCarthy
15 June 2022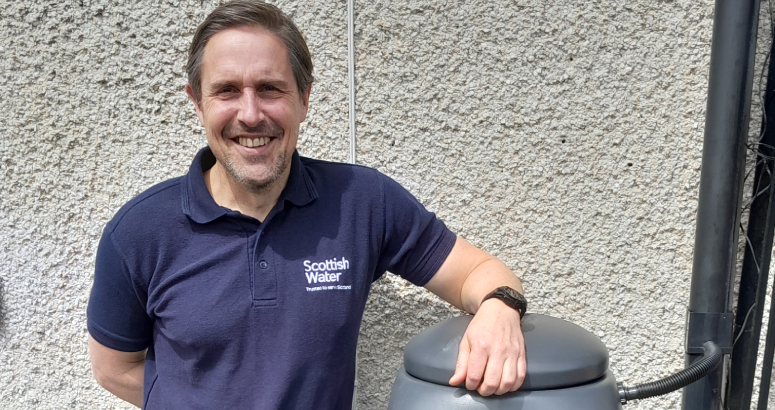 Always Use Water Wisely
Brian pictured next to a water butt
"Water is simply there when you need it. No question, no delay, just there, in plentiful supply at any point of the day, at any point throughout the year."

Brian McCarthy
Economic Demand Manager, Scottish Water
I recently blogged about the value of water during water saving week, so you know I think and talk about water a lot, both at work and at home.

I have a keen eye on the volume of water we all use to meet our daily needs in Scotland. Our domestic customers used nearly a billion litres of water every day last year. That's more than the 1,883 million pints of Guinness sold world-wide in a year. (But let's not get started on how much water it takes to produce one pint of Guinness cause it's just scary and will make me feel guilty most weekends!)

So, what do we do with all this water and what would make us appreciate its value more?

The average person in Scotland, yes that's likely to include you, is using over 165 litres per day despite being freed from our homes after covid restrictions were lifted. So many people would suggest they use less than 100 litres a day, and for some the estimate is as low as 20, so where is the disconnect?

I think the answer is simple. Water is simply there when you need it. No question, no delay, just there, in plentiful supply at any point of the day, at any point throughout the year.

So, how much water do you use? Do you know? I decided to record all the water I use within a normal 24-hour period and I learned a fair bit about my habits. I measured every interaction with water and hopefully some things I mention will spark a thought in your day.

The alarm went off on the day of my task and I set about my daily routine with a dozy trip to the toilet. I'll spare you the finer detail of everything I do through the day but it's worth noting that after one toilet flush and washing my hands I am 8 litres down the drain already.

By the time I have gone through my breakfast routine that number has increased to nearly 11.5 litres and I found my first bad habit. I always wash my breakfast cup, plate, and spoon under the running hot water tap. That's 3 litres alone so I must leave those dishes till more stack up.

By the other side of lunch time I had showered, been to the toilet too many times for my liking, and with a few cups of water between breakfast and lunch I've used 55.5 litres.

A quiet afternoon at my desk but I can hear the washing machine going on, so I must remember to add a daily amount for the 4 or 5 loads we normally do in a week. I find myself asking if we fully load that machine every time, and is 43 litres per wash as efficient as a washing machine gets?

Before dinner I have reached 92 litres.

It's a training day so a bottle of water is filled and then another shower after, before I prep food, eat and then wash the dishes in the 8 litre sink! and settle down for the evening. I'm now at 125 litres.

I have a low flow shower at just over 4 litres a minute and I am fairly small in height with short hair so I can be in and out in 3 minutes without rushing so all in my showers for today added up to 27 litres.

That could have been 100 litres more if I had an average flow shower and spent the average 8 minutes in it each time.

I have a dishwasher that's never used and a quick google search tells me it uses about 13 litres a cycle so maybe I need to buy some more plates and cutlery to fill it up during the day. I reckon that would save us 6 litres easy with one load a day.

A bit of telly and relaxation after a busy day and my partner has come in from the garden having watered the plants using the water butt.

And then it's off to bed. One last stop to the bathroom and my total reaches 132 litres. Below average, but if I thought about it, I could use less.

This has all been a bit telling, and when I looked at it even closer, I heat way more than half what I use so any reduction would limit the recent increase in my energy bills. I flush a little less than half so I must let the odd trip mellow, and I drink such a small proportion at 2.5 litres. All that high quality drinking water going down the drain and such a small amount drunk will have me thinking about all my plumbing systems both personal and domestic!

You'd think that was it, but age is catching up with me and a trip to the loo in the middle of the night before my 24hrs is up takes me to a total of 138 litres in the day.

It all adds up and it's easy done!
My interaction with water on a normal work day

Cold water

Hot water

Toilet flush (too many – might see doctor!)

57 litres (77 litres)

Showering (twice – it was a training day)

27 litres (128 litres)

Brushing teeth (twice)

0.5 litres (5 - 10 litres)

Washing hands (loads)

13 litres

Preparing food (once)

3 litres

Washing dishes (three times)

19 litres

Washing clothes (average for a day) (43 litres per wash)

16 litres

Drinking (not a lot when you think everything we use is potable)

2.5 litres

Sub total

60 litres (89.5 litres)

78 litres (179 litres)

Total

138 litres (268.5 litres)
The numbers in brackets are what it could be with less efficient fixtures and fittings!

Find out how much water your household uses with Save Water Save Money's GetWaterFit calculator at: www.scottishwater.co.uk/WaterUsage