Denny High School students take part in Scottish Water challenge
12 July 2022
The Scottish Water team spent the morning at the high school as part of a day focused on giving the students an insight into the importance of Maths in the real world and an overview as to the possible career options available to them.
Two groups of 25 students from S3 and S5/6 took part in the Water Supply Challenge.
They had to design, plan and build and test a water network. The teams played a board game which included a map, building materials such as pipes, connectors and valves, and a price sheet to cost their network. Once they had a route planned and priced, they then set about building the network to supply their customers. All this was done in a tight time limit.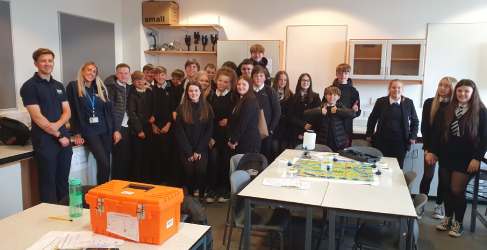 S3 students who took part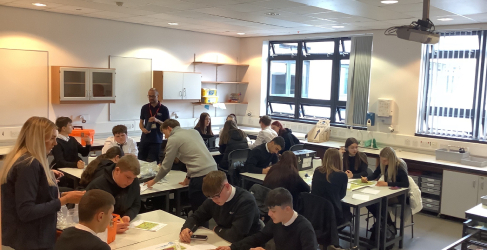 Working together to complete the challenge
Tim Wilson, a Maths teacher at the school said:
"This was an excellent activity which engaged the pupils in planning, designing and creating a water network. The students loved it and the team from Scottish Water were excellent in supporting and engaging with the kids."
The game is designed to test skills such as time management, budgeting and teamwork in order to complete the challenge successfully.
The Scottish Water team gave advice and revealed how they faced similar challenges in their own roles, supplying more than 2.9 million households and businesses.
Dionne Bridgeman aged 13, took part in the challenge and said:
"This was really educational, interesting and fun. It was great for team building and I really enjoyed it."
Victoria Grant aged 14 and Chloe Ferrier aged 13 said:
"This was a really good opportunity to work in a team with new people. We learned how our water is transported and all the work which goes into it."
Marc Auchie, a project manager at Scottish Water who help run the session said:
"This is the first time I have ever run a session like this in a school. I was really impressed with how engaged the students were and how insightful the questions they had were. I was really pleased that the kids seemed to enjoy it as much as we did."
All Scottish Water staff have two volunteering days which they can take each year which includes providing sessions like this at schools across the country. If you have an idea for Scottish Water to work with your organisation on volunteering activities contact volunteering@scottishwater.co.uk.