Stay Hydrated as Temperatures Rise
18 July 2022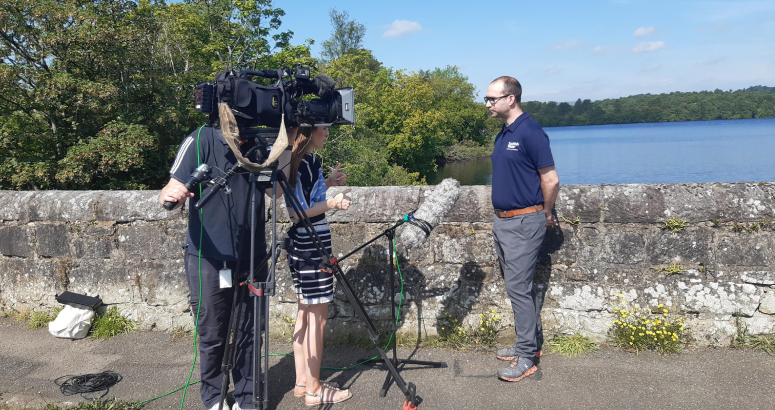 Top Up From The Tap
Water Operations Manager for Scotland Kes Juskowiak being interviewed by STV at Milngavie Reservoir today
"Our advice is to drink plenty of water throughout the day – and make sure you drink more than you might normally, in order to ease the effects of the hot summer weather."

Peter Farrer
Chief Operating Officer, Scottish Water
People across Scotland are being reminded of the importance of keeping topped up with water during rising summer temperatures.
Scottish Water's Chief Operating Officer Peter Farrer said it was vital to stay hydrated during hot weather which is forecast to reach record levels in parts of Scotland over the next two days.
Mr Farrer said: "Our advice is to drink plenty of water throughout the day – and make sure you drink more than you might normally, in order to ease the effects of the hot summer weather.
"We need water in our everyday lives to stay healthy and hydrated and that's even more important when the temperatures are set to hit peak levels over Monday and Tuesday.
"It's advised we drink around 1.5 to 2 litres a day, the equivalent of between 6-8 smaller 250ml glasses. Please make sure you top up from the tap frequently at home, at work or if out and about.
"If you are outdoors, we have more than 70 Top Up Taps located throughout the country where you can fill up a bottle for free."
Householders are also being urged to use water efficiently – to help reduce demand on the water distribution network – especially in the garden.
Scottish Water is advising people to take steps to reduce their water use and waste around the home – from not filling up paddling pools which can take many thousands of litres, not using garden sprinklers and hoses, watering plants using a watering can in the morning or evening, taking shorter showers and not leaving taps running needlessly.
Mr Farrer added: "Taking these simple steps can help us maintain supply to customers over the course of the summer and reduce the risk of any interruption to services. Water is always worth saving."