Water Safety Event to Be Held at Angus Reservoirs
22 July 2022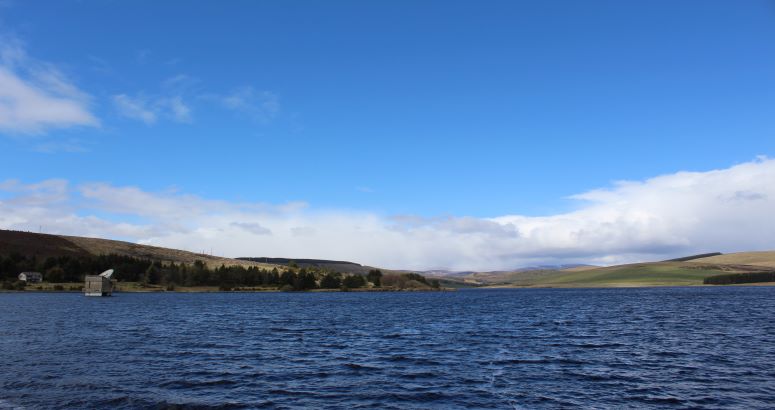 Be aware of the risks
Pictured: Backwater Reservoir
"We want people to be able to visit and enjoy beautiful places like Backwater and Lintrathen, but it is vital that people are aware of the dangers that large bodies of water can pose and know what to do if they get into trouble. "

Gavin Steel
Corporate Affairs Manager, Scottish Water
Backwater and Lintrathen reservoirs in Angus will play host to an event urging people to stay safe and behave responsibly around reservoirs, rivers and lochs this weekend.
The multi-agency event, which will take place at the reservoirs between 12pm and 4pm on Saturday (July 23) is aimed at engaging with visitors about the dangers posed by open bodies of water and highlighting the potentially serious consequences of irresponsible behaviour. Local representatives from the Scottish Fire and Rescue Service, Police Scotland, the local Mountain Rescue team and Scottish Water will be on site to engage with visitors.
The event comes following a number of tragic incidents in the UK where 13 people have drowned in open waters this month alone.
Scottish Water Corporate Affairs Manager Gavin Steel said:
"We want people to be able to visit and enjoy beautiful places like Backwater and Lintrathen, but it is vital that people are aware of the dangers that large bodies of water can pose and know what to do if they get into trouble.
"While water can appear harmless, especially in warm weather, Scotland's lochs, rivers and reservoirs are cold enough even at the very height of summer to cause cold water shock, which can leave even the strongest swimmer in serious difficulty.
"The safety message is part of a broader campaign to address unacceptable behaviour by a minority of visitors to these sites, with consumption of alcohol being another significant risk factor. I would encourage people to come and have a chat with us if they are in the area on Saturday to find out more."
Angus Watch Commander and Local Area Liaison Officer for the Scottish Fire and Rescue Service Gary Wood said:
"Every year people lose their lives in the water in tragic circumstances. We want to do everything we can to reduce preventable fatalities by highlighting the key water safety knowledge and skills which could potentially save a life.
"Our message is clear – open water is dangerous, and people should think very carefully before going for swim, especially if they have consumed any alcohol.
"If people do find themselves in trouble in the water, rather than struggling to swim, they should float by leaning back in the water and extending their arms and legs until they are calm enough to either call for help or swim to safety."
In addition to water safety messages, representatives from the agencies attending will also be speaking to people about anti-social behaviour such as littering and setting fires in hazardous conditions.
Gavin added:
"We are asking people to look after the areas around our reservoirs and lochs, by leaving no trace when they visit. Whether they are just here for a walk or are planning to stay longer and camp, they should follow the outdoor access code, avoid lighting fires and tidy up any litter or human waste before leaving. This means we can keep these places clean and accessible for everyone to enjoy and reduce the risk of wildfires, especially in hot and dry conditions.
"We very much welcome the support of local communities and partner agencies so that there is as clear a message as possible that anti-social behaviour will not be tolerated. Ultimately, we want visitors to understand the risks, take care of themselves and show some consideration for others, as well as the wider environment."
Gary said:
"At this time of year wildfires can spread extremely quickly and cause a lot of damage, so we would urge people not to light open fires in these areas but use a stove instead."