Linlithgow Group Encourage Water Conservation
09 August 2022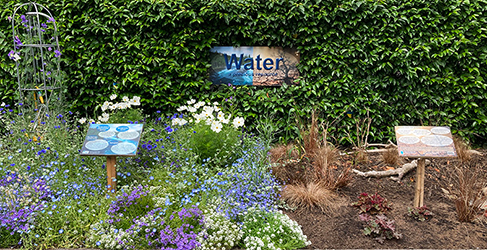 The flower display has been shortlisted for a national award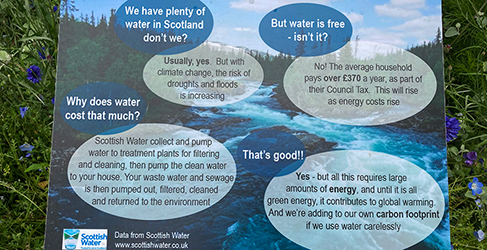 The signage highlights the issue of water scarcity
Linlithgow's Burgh Beautiful floral and environmental group has created a summer flower display to highlight water scarcity as part of a shortlisted entry for a national award.
The flower bed, which comes at a time where SEPA and Scottish Water are advising customers to use water wisely, shows the impact of drier periods of weather on the environment.
The Vennel bed has two contrasting halves: one with a lush blue and white planting, representing an abundance of water and one with a sparse brown area, showing the impact of drought.
Next to the bed are signs displaying facts from Scottish Water and SEPA about water scarcity and how precious water is as a resource.
Mel Evans, a Burgh Beautiful Volunteer said: "Scotland's recent heatwave's highlight the impact that climate change and water conservation can have in this country and beyond. It's estimated that 90% of the worlds natural disasters are water related and I think our display really helps bring home the importance of water conservation."
Britain in Bloom judges visited the display recently, touring the town's many floral displays which are cared for by local volunteers. The group were shortlisted as finalists for an award and are one of only two Scottish towns left in the competition.
A Scottish Water spokesperson said: "The display that Burgh Beautiful have created is a powerful reminder of the need to value water as a precious resource. We are delighted that they have chosen to highlight water conservation as an issue."
The display will be in place throughout August and September.
For lots of simple tips on how to save water visit: Save Water