Public Event to Share Fair City 'Super Sewer' Plans
06 April 2023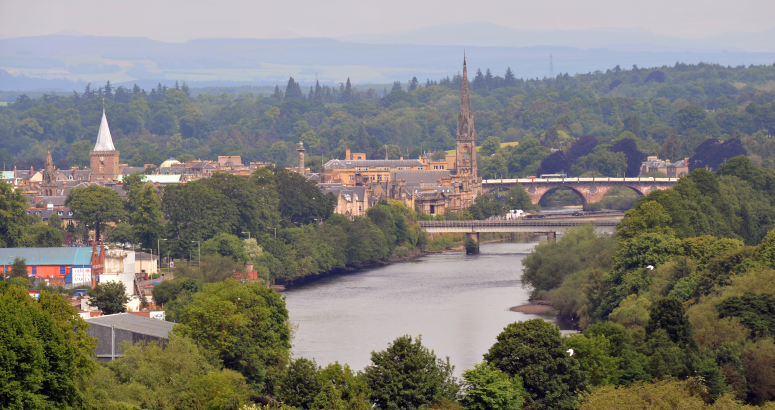 Investing to reduce flood risk and support growth
500 metres of upgraded 'super sewer' is planned alongside the River Tay between Canal Street and the South Inch
"We know that Perth is growing and that our climate is changing. We can't stop the intense rainfall events, but we can take action to make the Fair City climate ready."

Dominic Flanagan
Major Projects Delivery Manager
Scottish Water is inviting Perth residents and businesses to attend an information event before planned work begins in mid-May to deliver a major sewer upgrade in Tay Street and Shore Road.
The publicly owned water company is preparing to install 500 metres of new pipeline with a diameter of 2.2 metres between Tay Street's junction with Canal Street and the section of Shore Road that runs alongside the South Inch.
The upgrade is the first element of a major programme of investment in the Fair City's water and sewerage infrastructure which is set to be delivered over the coming years. The section of 'super sewer' will play a key role in supporting the city's continuing growth, while also reducing the risk of sewer flooding affecting low-lying areas between Muirton and the city centre.
The work in Tay Street and Shore Road will be delivered on Scottish Water's behalf by its capital project delivery partner Caledonia Water Alliance. Members of the public are invited to drop in to meet members of the project team, find out more and raise questions at the Salutation Hotel on Wednesday 26th April between 3:30pm and 7:30pm.
Scottish Water's Major Projects Delivery Manager Dominic Flanagan said: "A major programme of investment is needed to ensure Perth's essential water and sewerage infrastructure is able to support the city's continuing growth over the years ahead.
"Work carried out in partnership with Perth & Kinross Council before the pandemic has given us a more accurate and detailed understanding of all the city's underground and above ground drainage systems than ever before. This showed that by super-sizing a 500 metre section of the existing trunk sewer next to the River Tay, we can provide additional capacity for new development while also alleviating flood risk that affects our existing customers.
"We know that Perth is growing and that our climate is changing. We can't stop the intense rainfall events that overwhelm urban drainage systems, but we can take action to make the Fair City climate ready."
To allow work to take place safely, Tay Street and the north end of Shore Road will need to be closed to traffic for up to 20 months, with signposted diversions in place.
Westbound traffic on Tay Street will be diverted via Canal Street, Scott Street, Victoria Street and King Street. The diversion for eastbound traffic will be via King Street and South Street.
Signposted access to Shore Road will be via Edinburgh Road and Friarton Road.
Dominic Flanagan added: "We recognise that infrastructure work of this scale is disruptive and that the areas where we need to work are an important part of the city's road network.
"Our team is working hard to identify arrangements to minimise disruption as far as we can, while delivering the investment that is needed. Pedestrian and cycle access will be maintained, including access to Moncrieffe Island via the railway bridge – and a single one-way lane will be available as far as possible for local access only to Tay Street homes and businesses.
"Throughout the period we are working, our aim is to keep residents and businesses informed and respond to feedback. We would encourage anyone who would like to find out more about our plans to come and meet us, visit our website or get in touch."
The first phase of work in Tay Street and Shore Road is expected to begin from Monday 15th May and includes the diversion of a gas main by SGN to provide space below ground for the new section of 'super sewer' to be installed.