David Dale Avenue Sewer Flooding Project

Project Overview
Scottish Water has been carrying out works on a project to alleviate sewer flooding in Stewarton, East Ayrshire.
The first phase of a £1 million project to upgrade the local sewer network began in May 2023.
The project is being delivered by our in-house delivery team.
At a Glance
Tackle sewer flooding
£1 million investment
Delivered in two phases
David Dale Avenue
The project will help tackle the issue of sewer flooding which has affected properties in the area.
What We Are Doing
We are upgrading the existing sewer network to alleviate internal and external sewer flooding during periods of heavy rain.
The project will be delivered in two phases, the first delivering a permanent solution.
Why We Are Doing It
Historically, the area has been prone to sewer flooding during times of heavy rainfall.

This significant investment will address sewer flooding and the distress and upset it causes.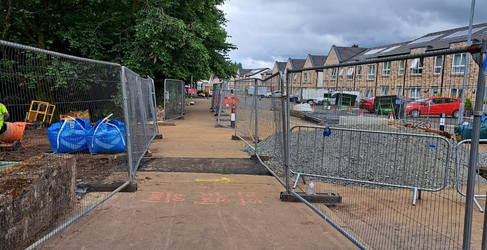 Latest Update
July 2023
The first phase of works began on Monday 22 May, 2023 following many months of planning and the completion of preparatory works at the end of last summer.
Temporary road traffic management was agreed with East Ayrshire Council and was in place from Monday 22 May until Friday 14 July 2023. During this time, a short section of David Dale Avenue near the junction of Fleming Drive was closed to traffic while a new sewer was installed.
Part of the new sewer also runs through Lainshaw Woods.
Plans are being finalised for phase two of this project which will help address external flooding experienced by some customers in the vicinity of Lainshaw Primary School. More information will be communicated about phase two when it is possible to do so.
As always, we will do all we can to minimise any disruption during both phases of these works and thank everyone for their patience and understanding throughout.