Occumster water main upgrade

Project overview
We are currently upgrading the water pipes in the Occumster area to ensure you continue to enjoy clear, fresh drinking water, and reduce the chance of pipes bursting. We will soon be starting the next section of works in the C1029 from the junction with New Clyth Road towards Upper Camster.
(There are future planned works to extend the water main renewal further up the C1029 towards Upper Camster. However this phase is currently in the design stage and we don't have further information regarding dates as yet.)
When are we doing this?
The next phase of work is planned to start from Monday 18 September 2023 for approximately five months. This section will require a local road closure.
Ahead of this we are holding an information event for local residents, where our project team will be available to discuss any questions or concerns customers may have.
7 September between 4 and 7pm (drop-in) at Lybster Community Hall, Main Street, Lybster, KW3 6AE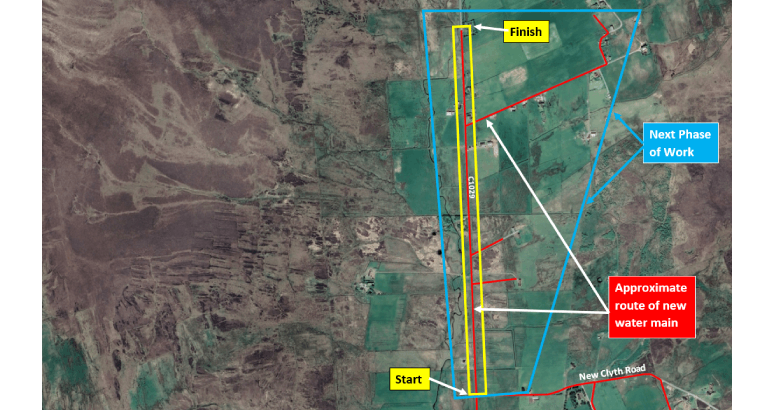 The red line indicates the approx route of the new water main.
While the yellow box shows the area of the road closure.
Road closures
There is a rolling road closure in effect from 18 September 2023 for approx five months. It runs along the C1029 between Occumster and Upper Camster, from the junction with New Clyth Road. The road will be closed each day between 7am and 7pm, with timed access for local residents during the day:
8.30 - 9am
1 - 1.30pm
5 - 5.30pm
Our site team will liaise with any customer whose access will be restricted during the works and will do all they can to maintain access where possible.
A signed diversion route via Watten, Haster and Thrumster will be in place for general traffic. Please follow all signage.