Gladhouse Reservoir is located in the South of Midlothian, near the border with the Scottish Borders. The reservoir has become a popular location for picnics, walking, cycling, water sports (open water swimming, kayaks, Stand Up Paddle boarding, fishing) and wild camping to name a few.
Scottish Water aim to work with and help local communities so the reservoir can be used safely and appropriately by the public.
To help achieve this, we launched an online survey encouraging people with an interest in this Scottish Water asset to give their views and help inform action that can support responsible access. More than 1,000 people took part.
Latest news - April 2022
We have taken the feedback from the visitor survey and have started developing short- and medium-term activities to trial at site. The four main areas we are targetting is car parking, management of the site, visitors behaviour and impact and wildlife at the reservoir. We are aiming to achieve as much as we can for the 2022 season (April-Oct). This will enable us to review learnings to assess the effectiveness of the measures put in place. This cycle of action and review will help to inform decisions and our overarching approach to visitor management at Gladhouse reservoir.

A newsletter has been provided in February to the local community with further details. This can be found in our document hub.
Midlothian Council are putting a Temporary Clearway order which restricts parking on the carriageway and verge on the U80 Gladhouse from 11th April until 2nd October due to issues raised around the safety on the road, particularly access for emergency vehicles.
Find out more about the Clearway order here or to contact Midlothian Council - Midlothian Council Contact Page
Gladhouse Reservoir Documents
All newsletters and documents relating to Gladhouse Reservoir projects.

Click here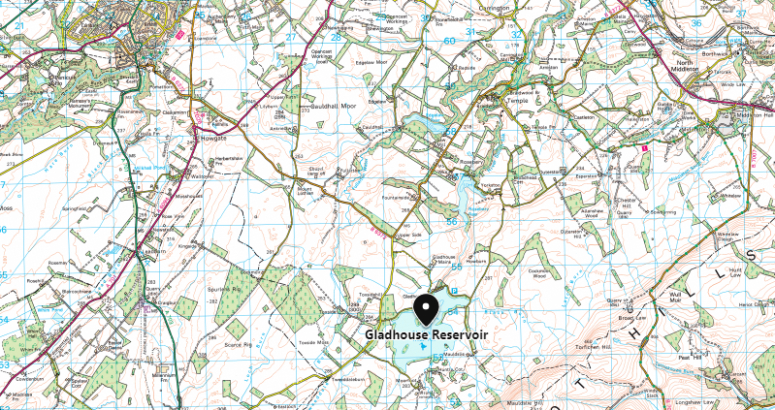 Gladhouse Reservoir
This reservoir supplies drinking water to approx. 150,000 people in Midlothian and parts of Edinburgh.
Visitor Management Survey Results
A newsletter summarising the survey results has been published as well as a full report, which can be viewed by clicking the button below. This feedback will help shape our plans for 2022 and beyond. We want to thank those who completed our survey and gave us their views on Gladhouse Reservoir.
Click Here
Planned Work at Gladhouse Reservoir 
We are currently onsite carrying out preparation work at Gladhouse Reservoir so you may see construction vehicles during this time. A number of safety improvements were identified as needing attention and the essential work to deliver these improvements has started. Click the button below to find out more about these improvements.
Click Here
Further updates
We will continue to update this page with the latest information. Why not follow us on social media to stay up to date on our latest activity:

Twitter: @SWsoutheast
Facebook: @ScottishWater