Investing in Gladhouse Reservoir
Gladhouse Reservoir is located in the South of Midlothian, near the border with the Scottish Borders. The reservoir has become a popular location for picnics, walking, cycling, water sports (open water swimming, kayaks, Stand Up Paddle boarding, fishing) and wild camping to name a few.

Scottish Water aim to work with and help local communities so the reservoir can be used safely and appropriately by the public.

To help achieve this, we launched an online survey encouraging people with an interest in this Scottish Water asset to give their views and help inform action that can support responsible access. More than 1,000 people took part.
Visitor Management
Scottish Water are committed to connect communities with their local environment. We recognise that our reservoirs provide important access to green space and that they are immensely valued by visitors. Gladhouse Reservoir was selected as a pilot site to focus on exploring how we can better support visitor experience.

A visitor survey was carried out in October 2021 which sought feedback from reservoir users, we have taken the feedback and listened to respondents who told us that there was inadequate parking at the site.
Gladhouse Reservoir Documents
All newsletters and documents relating to Gladhouse Reservoir projects.

Click here
We have been working on developing and designing a carpark facility and in December we submitted a planning application to Midlothian Council for a public car park. The proposal is to create a visitor 'base', welcoming visitors who can park safely and enjoy what the site has to offer.
The planning statement, location and design which has been submitted to Midlothain Council can be found in our documents hub.
The other areas we are working to develop is better management of the site, visitors behaviour and impact and wildlife at the reservoir.
We have introduced a new ranger service to help visitors enjoy the great outdoors, protect the natural habitat and promote safety at reservoirs.
Traffic restrictions have been implemented by Midlothian Council from 3rd April and will be in place until 1st October 2023 on part of the U80 Gladhouse Road along the reservoir's northern shore. No parking is permitted within this area.
To find out more about what is planned at Gladhouse, please see our community newsletters, also located in the document hub.
Planned Work at Gladhouse Reservoir 
As Gladhouse Reservoir is an operational site supplying drinking water to Midlothian and parts of Edinburgh, there often be operational activity taking place which could potentially impact your visit. Over the next 18-24 months there are several projects planned to take place in and around the reservoir.

We have created a document to provide an overview of each of the projects so visitors can better understand what we are doing and why. Please click the button below to view this document.
Planned Work Doc - Click Here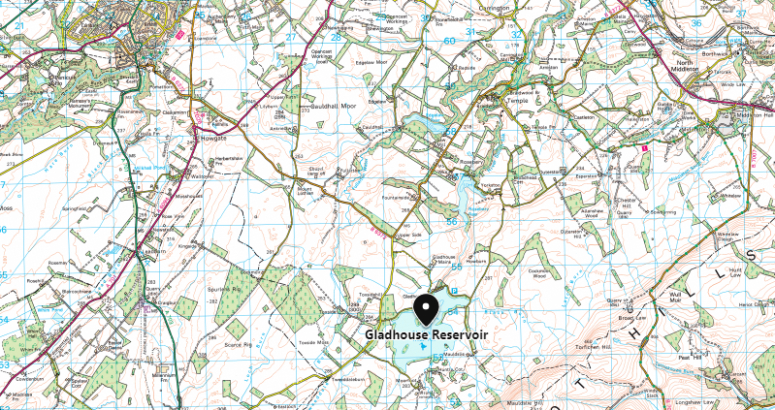 Gladhouse Reservoir
This reservoir supplies drinking water to approx. 150,000 people in Midlothian and parts of Edinburgh.
Visitor Management Survey Results
A newsletter summarising the survey results has been published as well as a full report, which can be viewed by clicking the button below. This feedback will help shape our plans for 2022 and beyond. We want to thank those who completed our survey and gave us their views on Gladhouse Reservoir.
Click Here
Further updates
We will continue to update this page with the latest information. Why not follow us on social media to stay up to date on our latest activity:

Twitter: @SWsoutheast
Facebook: @ScottishWater