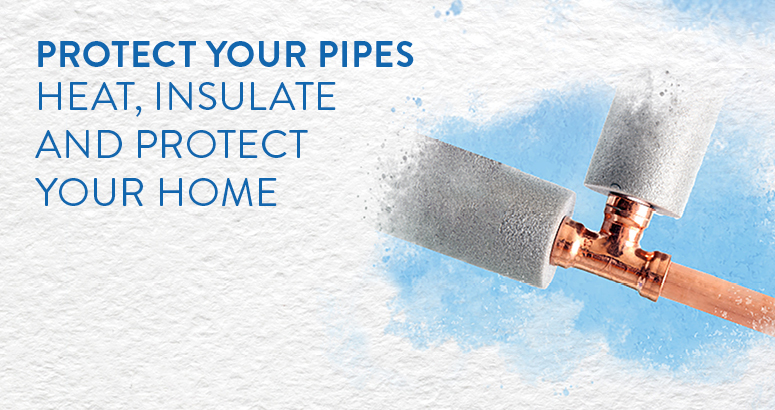 Be Prepared in Winter
Protect your pipes. Heat, Insulate and Protect your home.
From drinking, brushing, cleaning or flushing, water plays an important part in everyone's daily life. To help be prepared during cold weather, we believe the best way to help prevent frozen or burst pipes is to follow our helpful advice on how to heat, insulate and protect your home, so we can all play our part to keep the water cycle running.
Heat
Most modern boilers have frost-protection built in, which will fire up the central heating system if needed, even when your heating is turned off. This applies if your boiler is inside or outside. Different manufacturers take different approaches, but a common method is that if the water in the heating circuit drops below a certain temperature, the boiler will temporarily turn on. Your boiler must be powered on for this feature to work.
If you are not away on holiday in cold weather it's unlikely the boiler would ever need to turn on for frost protection, as the temperatures at which it might be triggered (around 10 degrees) will typically be much lower than you would normally heat the house to (around 16-21 degrees) .
If you don't have frost protection built-in to your boiler, or are unsure, you don't need to be concerned unless you are going away in cold weather where you expect the outside temperatures to drop below 5 degrees in the period you are away. Read our 'Protect' advice below.
Do you know where your stop valve is located? 
Your stop valve controls the water supply entering your home. It normally closes by turning clockwise and we recommend that you check this every few months to ensure that it can be opened and closed easily.
Watch our video here
Insulate
Pipes don't like the cold – whether they are outdoor or indoor, metal or plastic, new or old. Making sure pipes and water tanks are properly insulated is one of the simplest, and cheapest, things you can do to help protect your property from the cold.

Make sure that there are no gaps at bends, valves or fittings, and that you use suitable insulation material – a licensed plumber or your local DIY store should be able to give you advice.
If you have a cold water tank in the loft, it should be fitted with an insulation jacket or alternatively, the top and sides of the tank can be wrapped with suitable insulation material. Don't place loft insulation directly under the tank, though, as this stops heat from the rooms below helping to keep the tank from freezing.

If you have a condensing boiler, insulate the condensate pipe: efficient condensing boilers produce a small amount of condensate which drains away through a plastic pipe, usually outside. If that pipe gets blocked with a build-up of ice, the boiler will stop working. Insulate the plastic pipe with foam pipe insulation to keep it warmer and prevent the condensate water from freezing and blocking the pipe.
Protect
If you're going away then make sure you have someone who can regularly check for any problems. If your neighbours don't have a key for your home make sure they have contact details for someone who does in case of an emergency.

If your boiler does not have built in frost protection, then you can set your room thermostat to 10C and the programmer to 'On' or '24h' and it will fire up the boiler if needed.

If your property is going to be vacant over the winter months, turn off your house water supply and drain the water system – a plumber should be able to give you advice about this. Dripping water and cold draughts both increase the risk of pipes freezing – so have any drips or leaks repaired as soon as you discover them, and reduce draughts by fitting draught excluders to doors and windows. It's unusual to have a hot water cylinder in the loft – but if you do you should consider draining this too. Don't forget to leave your boiler turned on for frost protection.

Even when your home is winter ready sometimes damage can happen, so make sure you have adequate building and contents insurance.