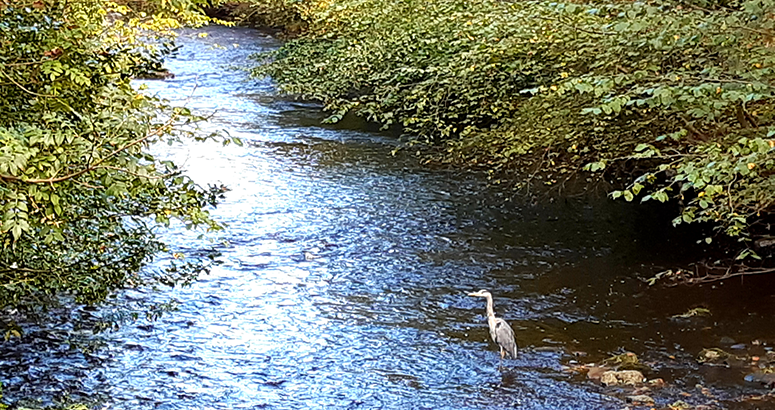 Water of Leith
Over the next 2 years we are investing to help improve the environment around the Water of Leith
***Project Update - July 2020***
As Scotland starts to transition out of Covid-19 restrictions, we're continuing to work around the clock to keep customers supplied with water and treat the country's waste water, while maintaining the health of our employees and our customers.To find out more about Scottish Water's response to the Coronavirus, click here.
Our project at the Water of Leith will now start on 27th July with some initial tree removal works due to be carried out week commencing 20th July.
Project Overview
We are improving Edinburgh's waste water systems with a multi-million pound investment. The project will improve the environment around the Water of Leith. Our alliance partners amey Black and Veatch (aBV) will be carrying out the work.
Once complete, this new infrastructure will help prevent items which are wrongly flushed down the toilet - from overflowing into the Water of Leith
The project requires upgrade work to various Combined Sewer Overflows (CSOs) at 14 locations along or near the Water of Leith.
We will be updating these project pages as the project progresses.
What the project involves:
The work includes the installation of new pipework, chambers and screens to reduce the risk of sewage related debris entering the Water of Leith and removing the Unsatisfactory Intermittent Discharges (UIDs) thus improving the aesthetics and reducing the environmental impact of storm overflows on the Water of Leith. This will result in an improved watercourse for all its users.
Overall the combined projects are expected to take around 2 years to complete.
Information event:
Thanks to everyone who attended our information event on Monday 17th February. It was good to meet everyone.
We will be updating these pages as the project progresses.
Upcoming Projects:
Location - Click on links for more info on the individual projects.
Start date/ Duration
Type of work undertaken
Old Mill CSO – On the Water of Leith Walkway between Baberton Loan and Blinkbonny Road (please see map on project page)

Juniper Green CSO – Water of Leith Walkway. See map on the project page for details

Tree removal: 20th July

site mobilisation 27th July

site work start: 3rd August

New CSO chamber. There will be diversions along the pathway for walkers & cyclists

New CSO chamber with static screen. New pipework and outfall with headwall
Kingsknowe CSO - new CSO at Colinton Dell


site mobilsation: 12th October
New CSO chamber with powered screen and associated pipework
New outfall and headwall.
New access road needed from the Water of Leith Walkway