Peebles enjoys the last drops of summer
16 August 2021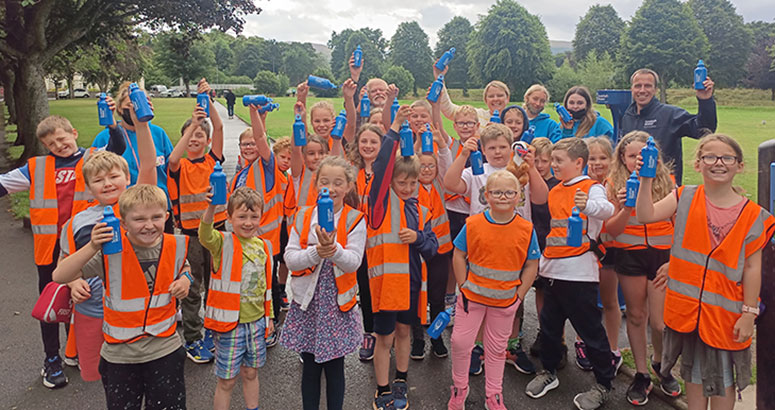 School's Out Summer club
Local kids celebrate Peebles' new top up tap
As kids in Peebles squeeze out the last drops of summer, they can now refresh themselves with a free refill at the towns newest Top Up Tap.
The tap, located on Tweed Green, opposite School Brae, is part of a drive to encourage people to carry reusable water bottles to stay hydrated, protect the environment by reducing waste and save money.
Local children from the School's Out summer holiday club, were out enjoying their last week of summer holidays and were ecstatic to receive their free water bottles, just in time for their return to school. Councillors Robin Tatler and Shona Haslam were also on hand to help give out the famous blue bottles to members of the public.
Scott Fraser, Corporate Affairs Manager at Scottish Water, said: "It's fantastic to launch a Top Up Tap in Peebles. The town is famed for the River Tweed and now it has another water themed landmark right next to it!"
"We're encouraging everyone to make the most of it. Remember to take a reusable water bottle to easily top up at the tap on the go."
"Drinking water from a refillable bottle is good for your health, good for the planet by helping reduce the volume of single-use plastic and it's good for your pocket too.
The installation of the tap comes just weeks after Scottish Water announced that across its network of more than 50 taps, it has dispensed over 187,000 litres of water, the equivalent of 500,000 330ml plastic bottles.
Leader of Scottish Borders Council, and Peebles resident, Councillor Shona Haslam said: "It is great to see these taps popping up in the Borders. Giving people the opportunity to top up their own water bottles rather than buying bottled water means that we can all do our bit for the environment and get away from single use plastics.
"Living nearby, I have already seen how well used this tap is and I hope that we can work together to get more of these throughout the region."
Clare Swann, Director for School's Out Peebles, was out with the kids when they visited the tap. She said: "The tap is an amazing addition to a bustling town. It is so important for all of us to get out and about and keep hydrated when the sun is shining. The tap will also save us from carting loads of water to Tweed Green when we come here to play!"
The Top Up Taps all have tracking devices which record the amount of water they give out at each location and are cleaned and disinfected regularly.
More information about Scottish Water's Your Water Your Life campaign is available at Your Water Your Life