Electric Vans Help Power Zero Emissions Targets
13 September 2021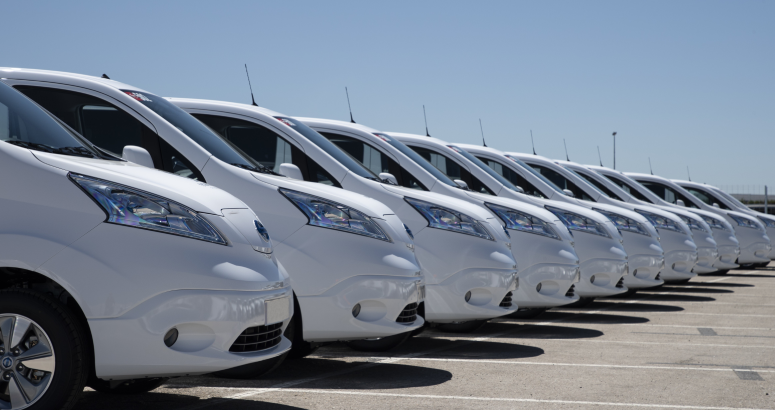 New fleet of electric Nissan vans
Reducing greenhouse gas emissions
"We are now starting our journey to putting zero emissions vehicles on the road – and planning for more. We operate a varied fleet with specific usage profiles, payload and towing requirements and equipment. "

Elaine Pringle
Fleet Manager, Scottish Water
A new fleet of electric vans will take to the road to help Scotland's water and waste water services to reduce greenhouse gas emissions.
Diesel-powered vans which are coming to their end of their work cycle are now being replaced by vans which can be plugged in at charging points.
They form part of Scottish Water's fleet of small vans and mark the beginning of a wholesale shift to more environmentally-friendly options.
The move comes as a new report for the public water and waste water organisation said up to 60 per cent of its operational fleet could turn electric to reduce transport emissions.
Pre-pandemic, Scottish Water's fleet of vehicles – from HGVs and large heavy-payload vans to small general purpose vans and cars – clocked up 19 million miles annually.
The organisation pledged to become net zero by 2040 and set out plans to achieve that in a
routemap
published in September 2020.
The 20 new Nissan EV 200s have just been bought and need to be adapted for use in helping deliver services across the country, including by water quality samplers, technical teams and network operatives. They will be on the road by April 2022.
A report by consultants for Scottish Water said that the light commercial van fleet had real potential to reduce fuel emissions.
The comprehensive review of over 1,300 vehicles by Cenex identified where suitable electric vehicles could be introduced, the location and type of charging infrastructure required, and provided a strategic deployment plan to meet Scottish Water's commitment to net zero emissions by 2040.
A new Scottish Water project team led by EV vehicle specialists is now in place to take forward the fleet transformation opportunities.
As well as achieving significant emission savings, including carbon dioxide and nitrogen oxides, electric vehicles will generate substantial financial savings from reduced fuel and maintenance costs over their operational life.
Other areas being explored include using alternative fuels for heavy vehicles including compressed natural gas (CNG) and "drop-in" fuels such as Hydrotreated Vegetable Oil (HVO).
Crucial to successful roll-out is access to electric vehicle charging points at strategic locations across the country. Charging stations have already been installed at key Scottish Water offices, treatment plants and depots. Scottish Water Horizons, the utility's commercial subsidiary, are installing charge points during the build of new renewables sites as a cost-effective way of accelerating their deployment.
Elaine Pringle, Scottish Water's Fleet Manager, said: "We are now starting our journey to putting zero emissions vehicles on the road – and planning for more. We operate a varied fleet with specific usage profiles, payload and towing requirements and equipment.
"We will now carry out our own real-world testing – including having access to vital charging infrastructure at workplaces and at home - to ensure the electric vehicle technology will meet operational requirements with no impact on customer service."
Robert Anderson, Senior Fleet Specialist at Cenex, said: "With such a large and varied operation, Scottish Water was one of the most complex vehicle fleets for us to assess and plan for a zero-emission fleet transition. In-depth analysis has shown that even with such a varied fleet operation, there is still great potential to transition the van fleet to electric, with limited impact on business operations."