BLOG: Driving Down Emissions – Paul Kerr
15 September 2021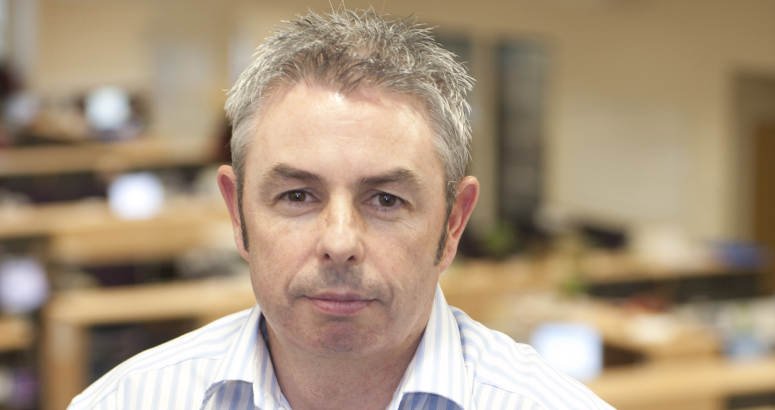 Adopting a Mindset Change to Address Climate Change
Pictured: Paul Kerr, Head of Scottish Water Horizons
"The opportunities are boundless, but only if we take bold and immediate action.  We must work together and combine forces where we can.   "

Paul Kerr
Head of Scottish Water Horizons
"Never before have we had such an awareness of what we are doing to the planet, and never before have we had the power to do something about that." One of the many bold and inspiring quotes from the remarkable Sir David Attenborough.
It's a quote that particularly resonates as we mark this year's climate week. All too often, images of death and destruction continue to flash across our screens due to the impact of climate change. Closer to home, the impact is also becoming a disturbing reality, propelling the need to make changes to the way we live, work and play.
On our Scottish doorstep, Scottish Water has set ambitious targets to achieve net zero operational emissions by 2030. As one of Scotland's largest consumers of energy, that's no mean feat. Fortunately we have a tremendous amount of land and property that offer enormous potential when it comes to carbon reduction.
Over the last decade we've installed a variety of technologies such as solar PV, wind, biomass boilers and anaerobic digestion to help offset operational energy consumption and reduce carbon pollution. Already we've come a long way.
But the pressure is on to do more, much more. And do things faster and on a much bigger scale. We have an interim target of delivering an extra 90GWh of new renewable generation projects by 2030 (the equivalent powering over 24,000 homes a year), and time is ticking.
Today we're celebrating the commissioning of our 50th and largest solar PV scheme to date at Perth treatment works. A major milestone thanks to the hard work of our people, contractors and onsite operational teams. Later this year we will begin building another PV scheme in Dunbartonshire that will eclipse anything that we've done before.
Of course innovation and new technologies will continue to play a big part in our net zero journey. We have some fantastic examples coming up such as the integration of energy storage batteries at our Perth PV scheme; as well as a trial of bifacial solar panels (which produce power from both sides of the panel) at a site in Fraserburgh to help generate greater power output.
And when it comes to heat production, the need for innovation becomes even greater. With the UK soon to phase out gas boilers, alternative ways to heat our spaces must be a priority. Domestically, things are improving with technologies such air and ground source heat pumps. On a larger scale, there is much more to do.
In Horizons, we are continuing to develop heat projects by supporting upcoming district heat networks. We've been working with Clyde Gateway to enable heat to be extracted from Dalmarnock treatment works to support a district heat network in the east of Glasgow area; and with Renfrewshire Council to develop a heat scheme to the AMIDS project (Advanced Manufacturing Innovation District Scotland) which will utilise heat extracted from the final effluent from the nearby Laighpark treatment works. Going forward, its likely such schemes will become even bigger and bolder.
On the more local front, we're continuing to accelerate the delivery of heat and energy efficiency measures across Scottish Water's office buildings. Often underappreciated, energy efficiency can dramatically reduce carbon emissions. In the future we aim to go one step further by developing a pathway to a net zero building estate by transforming our heating emissions.
Whilst our main focus is on energy generation and efficiency, the sheer scale of Scottish Water's operations will also require the creation of 'carbon sinks'. A lot of great work is being done to maximise the use of our land to help with carbon offsetting such as tree planting and peatland restoration. But there are lots of factors to consider to ensure we protect precious ecosystems whilst creating opportunities for new habitats to grow and flourish.
So a lot to play for. The opportunities are boundless, but only if we take bold and immediate action. We must work together and combine forces where we can. We must make conscious decisions in everything we do. In short, we must adopt a 'mindset change' to address 'climate change'.