Autumn Water Efficiency Call After Record Dry Summer
05 October 2021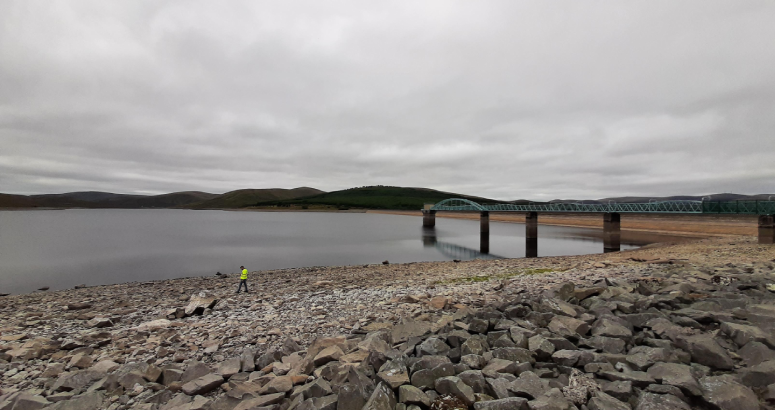 Use Water Wisely
Help protect supplies throughout autumn and into winter
"The public can make an important contribution towards protecting supplies by taking small, simple steps to reduce water use"

Kes Juskowiak
National Water Operations Manager, Scottish Water
People across Scotland are being asked to use water efficiently this autumn to help maintain normal supplies following a record dry period and low reservoir levels.
Met Office data shows that the North and West of the country experienced its driest April-September in 160 years, while for the whole country it was the second driest on record for the same period.
Scottish Water and the Scottish Environmental Protection Agency (SEPA) are calling on householders and businesses to help protect supplies throughout autumn and into winter.
Officials at SEPA say the significant rainfall deficit over recent month means double the normal about of autumn rain is needed to return water levels in some areas back to normal for this time of year.
Kes Juskowiak, national water operations manager for Scottish Water, said: "People might assume that, because we are into autumn and there has been some rain recently, and autumn is usually cooler and wetter, water saving is no longer an issue.
"Maintaining normal public water supplies remains a significant challenge for us. This is an unusual call in the autumn, but we are experiencing exceptional circumstances due to a significant rainfall deficit.
"Hopefully, autumn will bring some respite, but we need heavy and prolonged rainfall to get reservoir levels back up towards normal levels for this time of year.
"We are constantly monitoring weather systems across Scotland and assessing their impact on our water sources, working closely with SEPA. However, the public can make an important contribution towards protecting supplies by taking small, simple steps to reduce water use."
Scottish Water has 189 reservoirs or lochs it uses for drinking water supplies and a total of 400 sources, including rivers, boreholes and springs.
David Harley, Head of Water and Planning at the Scottish Environment Protection Agency (SEPA) said: "Scotland is facing a climate emergency, with more frequent extreme weather, ranging from significant water scarcity to sea level rises, heavy rainfall and flash floods, which can be devastating to communities, public services and local businesses.
"What we are seeing now is the strange phenomena of short-term wet weather against a backdrop of longer term prolonged dry spells which not only causes immediate challenges, but also concerns for the medium term and into 2022.
"Across the period, working with Scottish Water, we've asked both communities and the companies we work with to be vigilant and responsible over their water use. With continued strain on the water environment, we are asking households and businesses to be extra vigilant now, to reduce demand and keep our water resources flowing."
Simple measures which can be taken in and around the home include taking shorter showers, turning taps off, and using appliances like dishwashers and washing machines only when fully loaded. Businesses and commercial premises are being asked to reduce non-essential water use.
Operations are taking place around the country to supplement water sources and make adjustments to our networks.
New infrastructure has been installed in some reservoirs and work has taken place with industrial customers to provide alternative sources to safeguard supplies in some areas. Work to detect leaks across the network has also been ongoing.
Low reservoir levels – and in some cases when they begin to refill – has caused discolouration in some water supplies due to naturally occurring manganese. Enhanced treatment operations are taking place to reduce the impact of this for customers.
Scottish Water posts facts, tips, and activities on social media to raise awareness about why we need to save water and more information on saving water is available at
www.scottishwater.co.uk/savewater.