Scottish Water Joins Global Coalition on Sustainable Water Use
11 November 2021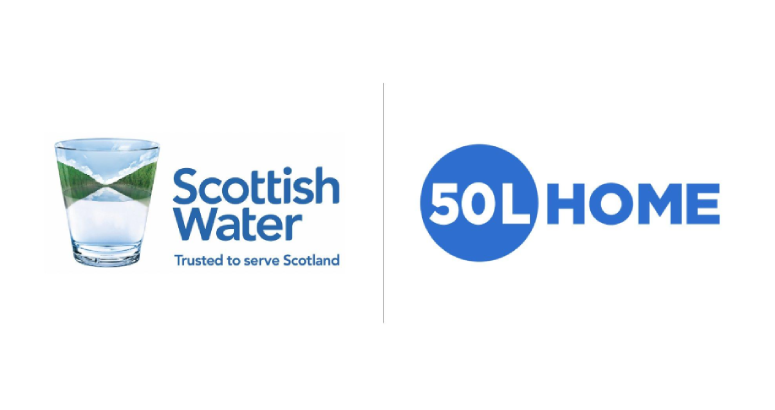 50L Home Coalition
Encouraging our customers to think about the water they use
"We are delighted to be joining 50L Home as we encourage our customers to think about the water they use – and how we can all look after it. Being part of the coalition will aid our understanding and help deliver action to more sustainable water use and management."

Brian McCarthy
Economic Demand Manager, Scottish Water
Scottish Water has joined a growing global partnership aimed at encouraging customers to make smart decisions on water use to help protect a precious natural resource and reduce carbon emissions.

The 50L Home Coalition was created to address two major concerns: water security and climate change.

The announcement was made at COP26 taking place in Glasgow today (Thursday November 11 2021) during an event in the Water Pavilion – A Net Zero Circular Water Future for Cities.
Scottish Water's Gordon Reid, who leads on the delivery of a net zero route map which will transform water and waste water services across the next 20 years, spoke at the session.

Water management is critical to addressing challenges presented by infrastructure requirements, investment levels, growth and urbanisation against a background of the climate crisis and its impact on water sources and supply.

The coalition brings together public and private sectors to drive innovation and action. Public sector bodies and non-governmental organisations are jointly led by the Mayor of Phoenix Kate Gallego – whose appointment was also announced during COP26 – and Shailesh Jejurikar, the Chief Operating Officer of P&G.

Brian McCarthy, Scottish Water's economic demand manager, said: "This year we experienced the driest six months between April and September in the north and west of Scotland and the second driest nationally since records began. By working together as organisations and with our customers, we can find ways of looking after our water to ensure supply for generations to come and reduce our impact on the planet.

"Scottish Water shares in the ambition to create a water-efficient, net zero future. We have committed to achieving net zero status by 2040 and going beyond thereafter. Water demand management will play a major role in reducing what we abstract from the environment, help to protect a precious resource and safeguard the country's water resources for generations to come.

"We are delighted to be joining 50L Home as we encourage our customers to think about the water they use – and how we can all look after it. Being part of the coalition will aid our understanding and help deliver action to more sustainable water use and management."

Braulio Eduardo Morera, Director of the 50L Home Coalition, said: "From our Coalition's launch, our intention has been to transform the 50L Home into a public-private collaboration platform.

"Scottish Water is instrumental to realizing that intention, and we are delighted to welcome them into our Coalition. Scottish Water has played a substantial role in supporting the economy of communities across Scotland as well protecting and enhancing the nation's natural environment. We are honored to learn from an organisation with such an important social role, and our hope is that through our collaboration, we can support Scottish Water in achieving its ambitious net zero emissions goal as well."

50L Home was created in response to events in Cape Town in 2017 and 2018 when the city came close to "day zero" - when water services would be turned off to citizens due to major drought and the need to reduce usage.

Launched in October 2020, 50L Home is supported by an emerging group of global private partners - including Electrolux, Engie, IKEA, Kohler, Procter & Gamble (P&G), Suez, and Arcadis. It was convened by the World Economic Forum, 2030 Water Resources Group, and the World Business Council for Sustainable Development. 50L Home was selected by the World Economic Forum as one of its Lighthouse Projects in 2020.