BLOG: Let's wipe out wet wipes on our beaches - Catherine Gemmell
22 April 2022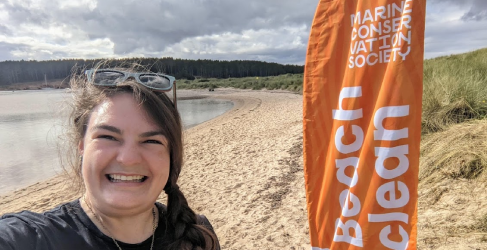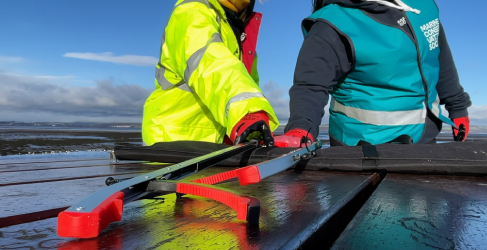 "Let's make 2022 the year wet wipes start to get wiped out from beaches"

Catherine Gemmell
Scotland Conservation Officer, Marine Conservation Society
'Ten more wipes...and another two...another one, three more wet wipes here...' and so the conversation goes between volunteers on one of our beach clean and litter surveys.
During the Marine Conservation Society's Great British Beach Clean in September 2021, over 3,000 wet wipes were picked up by volunteers across Scotland. That means 25 wet wipes were found on average per 100m of beach surveyed. Do we really want to see a wet wipe for every couple of steps we take on a beach?
Wet wipes aren't good for the beach or for the amazing wildlife that live and visit Scotland's shores. So, what can we do to wipe out wet wipes on our beaches?
Wet wipes and other sanitary items like sanitary pads, tampons, tampon applicators and nappies can end up on beaches and in the ocean when they're wrongly flushed.
Once flushed, these items make their way to the coast and sea through sewer overflows. These are used to relieve pressure on the system from things like heavy rainfall or a lack of capacity in the sewer system.
Many of these items contain plastic which can reduce wildlife's ability to thrive in the ocean by either trapping them, blocking their digestion, reducing their food intake and even harming their reproduction.
This is why we're supporting the Nature Calls campaign to take action in the bathroom and in parliament!
We need to stop items like wet wipes being flushed in the first place, something we can all help out with at home. We're also supporting the call to ban plastic in wet wipes, to reduce the risk of more plastic in the sea even further.
We know that single-use plastic policies such as the carrier bag charge and the ban on single-use plastic stemmed cotton buds work. Our Beachwatch data has helped secure these policies, and shows them working! For example, the numbers of single-use plastic bags have more than halved since charges across the UK were introduced*. Cotton buds found on beaches dropped by 50% between 2020 and 2021 in Scotland*.
Let's make 2022 the year wet wipes start to get wiped out from beaches. Support the Nature Calls campaign and watch what you flush. Join us in calling for a ban on plastic wet wipes.
*Data collected by Marine Conservation volunteers. Carrier bag beach litter data collected September 2015 vs September 2022 Great British Clean. Cotton bud data collected September 2020 and September 2021 for the Great British Beach Clean.