Industrial Action and Our Services
Industrial Action November 2023 - committed to serving customers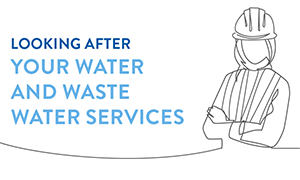 Latest update: Industrial action has been suspended following agreement between Scottish Water and trade unions who are balloting their members.
Scottish Water's core services underpin daily life for around 2.6 million households, 5 million people, and more than 150,000 businesses.
Protecting public health and the environment are priorities for us.
Industrial action, including strikes, is a choice and as an organisation we recognise the rights of our unions. At the same time, it is our responsibility to continue to provide our customers with excellent water and waste water services.
That's why, with the support of our workforce, we have worked hard to implement a strong contingency plan to minimise any impact of industrial action. Our experience during the pandemic is helping us navigate this difficult period.
Throughout this time, we remain committed to finding a resolution with our unions.
Keeping Services Running
Customer Water Services
We will:
ensure customer taps still provide high-quality water supplies across rural, urban, and island communities
minimise risk around interruptions to supply
pause all non-essential planned activities
focus on treatment and network stability
continue to monitor our assets 24/7
assess and prioritise calls and incident response including network repairs

Waste Water Services
We will:
continue to provide vital waste water treatment and services across Scotland
work to maintain compliance with our licenses, working with SEPA and our regulators
pause all non-essential planned activities
work with our contractor network
monitor and assess our waste management


Capital Investment
We will:
continue to deliver our £1bn capital investment programme with no large-scale disruption expected
review any crossover with our core services
monitor and manage on-site resources
work with our contractor community and supply chain

Sampling and Scientific Services
We will:
continue our stringent regulatory water sampling and analysis to help protect public health and the environment
How to Contact Us
If you still need help, you can contact us in a number of ways below
Contact Us
Additional Support
You can sign up to our Priority Services Register below if you need extra support
Priority
Customer FAQ
Check out our Q&A section for more information
More Info
We will keep this page updated with all the latest information regarding any potential impact on our services during the periods of industrial action, so please check back regularly to stay informed.
In the meantime, we would like to thank everyone for their patience and understanding.