Peterhead to Ellon water main upgrade

Project overview
We are investing £40 million to upgrade the water network between Peterhead and Ellon.
Over the next three years almost 23km of new trunk main will be installed, ensuring Scottish Water customers continue to have access to fresh, high-quality drinking water while reducing the risk of pipes bursting.
Why are we doing this?
We are working with Caledonia Water Alliance to deliver this major investment to improve resilience in the north east's water supply. The works being carried out by contractors AG Wilson.
When are we doing this?
The first phase of the essential works takes place between Peterhead and Auchiries from Monday 4 September, for around 12 months. Phase two, from Auchiries to Ellon, is expected to begin by summer 2024 for completion in summer 2026.
Most of the initial 5.7km infrastructure upgrade will take place in rural and private land, however there will be rolling road closures in effect until mid-November 2023.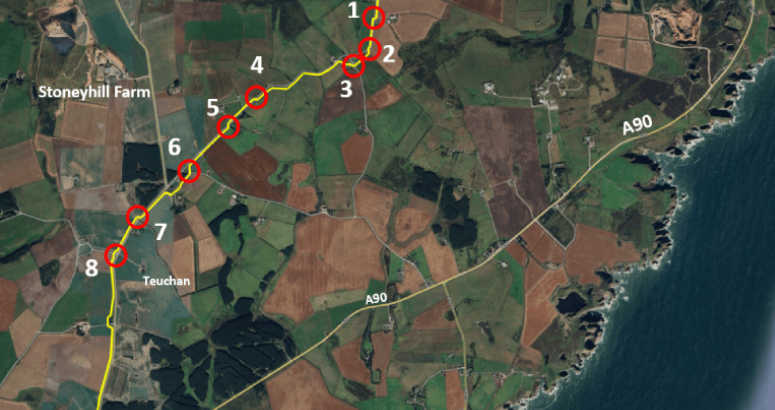 The yellow line shows the approx route of the new water main.
Red circles and associated numbers show the locations of planned road closures.
Road closures
Closures 1, 2, 4 and 5: on a rolling basis between 18 September and 3 October 2023
Closures 3 and 6: to be carried out 4-12 October 2023
Closures 7 and 8: to be carried out 3-15 November 2023
Each road closure will have a signposted diversion in place. Please follow all signage in place. Please note dates and durations are subject to change depending how the works progress.
Local access will be maintained but there will be no vehicles permitted through the working area of any road closure.