Lairg Water Treatment Works
Scottish Water is starting work to deliver a £5 million replacement Water Treatment Works which will help take care of Lairg's water supply for years to come.
Work will take place at Scottish Water's existing Savalbeg site, around 1 mile north-east of the village and will use the established water supply from Loch Beannach, around 2.5 miles further north. Lairg's existing Water Treatment Works was commissioned early in the 1990s and is now coming towards the end of its operational life.
The planned replacement WTW is designed to ensure that Scottish Water can continue to provide clear, fresh drinking water to customers in and around Lairg for many years to come.
The utility's delivery alliance partner Efficient Service Delivery (ESD) has been developing proposals for a new Water Treatment Works (WTW) to serve around 1100 customers in and around Lairg, working in partnership with Ross-shire Engineering.
The new WTW will use a modular construction approach that has been developed via a long term partnership between Scottish Water and Ross-shire Engineering for use in rural communities. The WTW will be assembled and tested at Ross-shire Engineering's specialist factory in Muir of Ord, before being separated into 3 large modules, which will be delivered and installed at their long term home. By building the WTW at Ross-shire Engineering's factory, we will significantly reduce the construction time and the amount of traffic that needs to attend the site.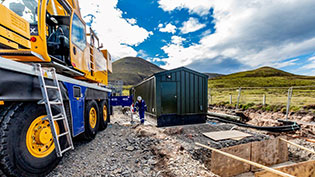 Pictured above: Delivery of a rural Water Treatment Works of similar size and appearance to the one proposed at Lairg
The project is expected to be completed in Autumn 2020.
ESD has recently written to residents in the vicinity of the Savalbeg site to make them aware of the work that is beginning and how they can keep in touch. We will continue to keep the local community updated about our progress with this essential investment to take care of Lairg's water supply for years to come.