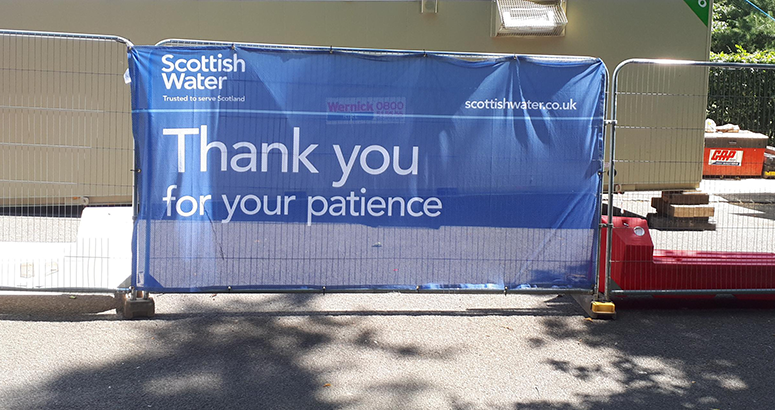 Closure
Mugdock Road, Milngavie to re-open ahead of schedule
A road in Milngavie is about to be re-opened ahead of schedule during a £30 million project to improve services to more than 54,000 customers.
A stretch of Mugdock Road from just south of Drumclog car park to near the measuring pond at Mugdock reservoir has been closed from June 17 while the project progresses and had been scheduled to re-open on about October 7.
However, after installing 780 metres of new water main under Mugdock Road, we are delighted to be able to confirm the stretch of road will re-open two weeks ahead of schedule on about September 21.
During the closure, road users have been diverted via the A81 Strathblane Road.
Drumclog car park, which is part of Mugdock Country Park and is used by visitors to the park and the local reservoirs, has been closed from the same date will remain closed to enable the installation of a further 400 metres of new water main and will be re-opened when this work is completed.

Jane McKenzie, communications manager at Scottish Water, said: "We are really pleased to be able to confirm the reopening of this stretch of Mugdock road two weeks ahead of schedule. We know the closure and the use of the diversion route has been an inconvenience to road users in the area and we are sure they will welcome this good news.
"We apologise that we are not yet able to re-open Drumclog car park and that this will remain closed for a little bit longer and we thank affected users for their continued patience and understanding."
Meanwhile, a short stretch of the A81 Strathblane Road beside Craigmaddie Reservoir will be reduced from two lanes to one from Monday 23 September for about four weeks to enable us to carry out pipe installation work. Temporary traffic lights will be in operation.
The road and car park closures at Mugdock Road and Drumclog car park have enabled work to progress on the £30m project to improve services to customers in in parts of the Bearsden, Milngavie, Clydebank and Strathblane areas.