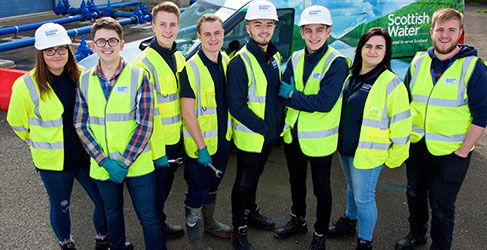 Our apprenticeship schemes are a real alternative to University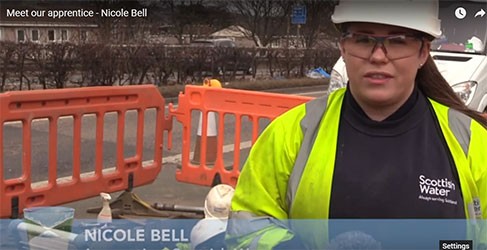 We talk to Nicole at the start of her apprenticeship and at the end, upon completion of the programme, to see how she's found the experience.
Thanks to everyone who applied to our 2023 Apprentice Campaign.
Please visit this page early next year for details of the 2024 intake.
An apprenticeship with us is your ticket to the rewarding career you have always wanted.
We have a broad range of apprenticeship programmes which suit different aspirations and interests.
Our programmes offer you excellent development, challenging and rewarding work and the opportunity to launch a bright career at Scottish Water.
Modern Apprenticeship Videos
View videos of our current and former apprentices
Watch here
Why Scottish Water?
Not only will you gain qualifications - you will also get hands-on work experience and learn from professional and experienced colleagues.

We'll help you reach your full potential by giving you first class training and mentoring. We'll invest in your development and you'll earn nationally recognised qualifications.

We will offer you tailored learning and development and the opportunity to take ownership of your career direction. You will find Scottish Water an inclusive and collaborative work environment where we respect and value people's differences and you feel able to share your ideas and be yourself.
Rewarding Our Apprentices
As an apprentice in Scottish Water you will receive a wide range of benefits, including:
Tailored learning and development plan
Extensive career opportunities upon successful completion of your apprenticeship
A competitive salary
Annual company bonus
38 days holiday per year (including public holidays) with the option to buy up to 5 additional holiday days per year
Eligibility to join the defined benefit, contributory pension scheme
Life assurance scheme
Paid time off for community volunteering
Opportunities to be involved in sports, social and fundraising activities
Access to "SW Splash", saving you money on holidays, bills and shopping
To learn more about our Modern Apprenticeship Programme, read the supporting information.
Our main campaign for 2023 is over, but additional requirements sometimes pop up throughout the year, so keep an eye on our careers page.
Modern Apprenticeships Supporting Information
Get more detail on our Modern Apprenticeships including entry criteria, rewards and benefits and how we'll support your progression in your new career.
Learn more
Do you have any support needs?
Please email us here if we can make any changes to our application and selection process to make it easier and more comfortable for you.
Recruitment Retention of Data
Please note that candidate records greater than 12 months will be automatically removed from our system records.