Project Overview
This is a multi-million-pound project to upgrade parts of Loch Katrine Aqueduct which was built in Victorian times and serves more than 1.3 million people in parts of Greater Glasgow and the central belt.

Enabling works began in February 2023, ahead of the main works beginning later in the year.

The project is being carried out by our delivery partner George Leslie.
At a Glance
Multi-Million-Pound Upgrade Works
Main Contractors George Leslie
Anticipated Duration 10 Months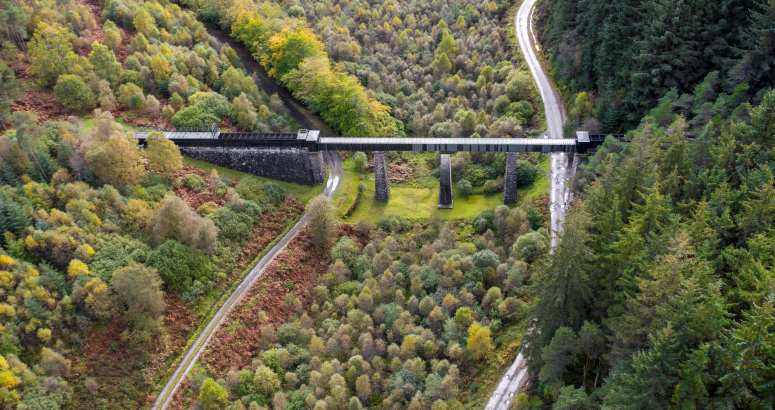 Loch Katrine Aqueduct
Our latest investment project will see 4km of aqueduct refurbished and repaired at various locations within the Queen Elizabeth Forest.
What We Are Doing
We will be carrying out works to improve and refurbish around 4km of aqueduct within the Queen Elizabeth Forest area, approximately five miles west of Aberfoyle.

Enabling works are under way and are being carried out at various locations and bridges along the Loch Katrine Aqueduct. We are also carrying out masonry repair works in Blanefield, and repair works and ditch clearance at Couligarten Road.

Concrete, masonry and metalwork repairs will be undertaken to improve these structures which are essential for water supply.

The aqueducts take water from Loch Katrine to two of Scotland's biggest water treatment works; Milngavie and Balmore Water Treatment Works.
Why We Are Doing It

A previous project to upgrade Loch Katrine Aqueduct was completed in May 2021. During those works, a significant amount of investigations were carried out which identified additional sections for improvement.

This latest project will also help improve the security of the water supply to customers for generations to come.