Investing in Milngavie Reservoirs
Milngavie Reservoirs
Update November 2023
Footpath Upgrades
Footpath upgrades began at Lovers' Lane on Monday 14th August and this first section has been successfully completed. The next phase of upgrades begins w/b 27 November when attention turns to a section of the footpaths at the opposite side of Mugdock Reservoir – a stretch which runs along the side of Mugdock Road, at the end nearest to Mugdock Causeway. The reservoirs are very much open for business while our work is happening! We are doing all we can to keep any disruption for visitors and local residents to a minimum. Find out more here.

Blue-Green Algae
Blue-green algae blooms have recently been spotted in Craigmaddie Reservoir. A reminder that the bylaws covering Milngavie Reservoirs are there for everyone's safety - nobody, dogs included, should enter the water. These blooms can cause skin irritation for humans and could be fatal for dogs if ingested. Dogs are at risk if they drink the water or lick their coat after swimming. PLEASE keep dogs on a lead and away from the water.
History Walk
Join our Scottish Water ranger team on a pleasant stroll to discover the rich history of Milngavie Reservoirs. Takes place on Sunday 19th November, 10.30am - 12noon. Book your place here.

Bio-diversity Garden
Extensive landscaping work, wildflower seeding and all of the planting including trees, shrubs and hedges is now complete. Additional drainage has been put in place and the paths have been constructed. The paths have been surfaced.
Dirty Dam
The Dirty Dam and associated Dirty Ditch were installed in the 1850's and designed to remove sand and silt from surface waters entering Craigmaddie and Mugdock Reservoirs. Over the years, there has been a significant build-up of silt affecting the efficiency of the network.
Works to remove approx. 7,000 cubic meters of silt, enough to fill nearly three Olympic swimming pools, has been completed. Reinstatement and biodiversity improvement works have been completed. Footpaths are now open.

Respect Our Reservoirs & Safety

It's important to respect our reservoirs- and each other. Have that picnic but use bins provided &/or take your litter home. Take your dog for a walk but please keep it under proper control. Go for a run, walk or cycle but please respect people's space. Please don't take risks at reservoirs & respect the by-laws. There are lots of hidden dangers at reservoirs like underwater machinery, strong currents and deep, cold water! Also, if you are authorised to use the parking here on site (Blue Badge holders and SW employees only), please watch your speed on the access road.
Calling All Budding Photographers!
Do you enjoy taking pics when you're up at the reservoirs? Please send us your snaps and we'll share them across our digital channels. Tweet them to @ScotWaterWest using #MilngavieReservoirs hashtag or send by email to:
CorporateAffairsWestTeam@scottishwater.co.uk
Drumclog Car Park
The car park is available for visitors to Milngavie Reservoirs. Visitors are reminded that this is the parking location for all non-blue badge holders. Please park responsibly.
Pardon the Puddles
We know there are a good few puddles on the paths around the reservoirs to dodge on rainy days. We appreciate your patience and understanding while our footpath improvement project is under way. In the meantime, please wear appropriate footwear and pardon the puddles!
Milngavie Reservoirs Investment Project
Find out all about our investment work which is under way at Milngavie Reservoirs
More Info
Milngavie Byelaws
Byelaws for the prevention of pollution and for the regulation of use of water gathering grounds
Download here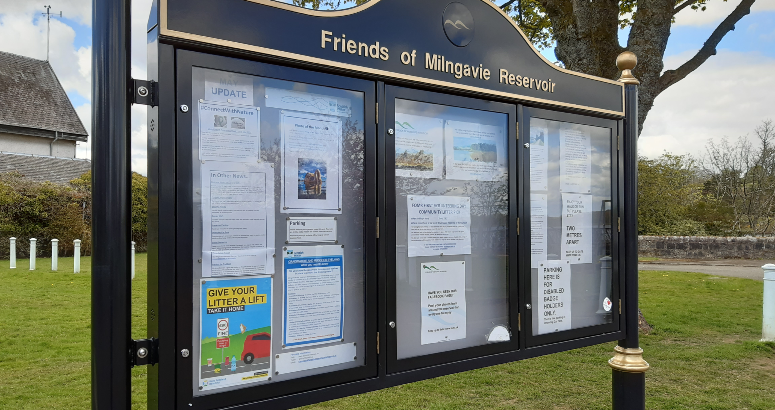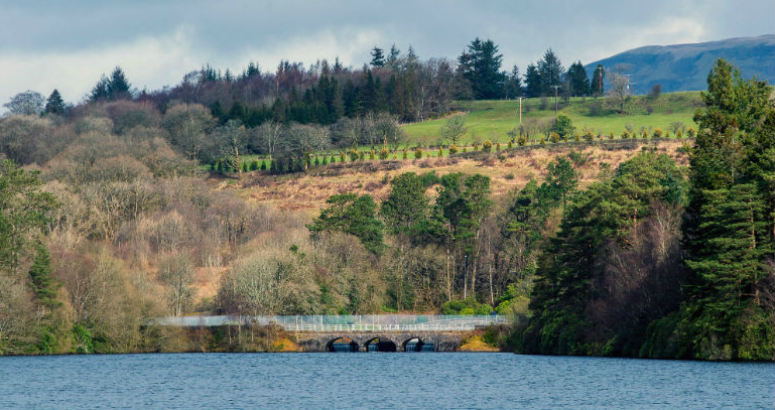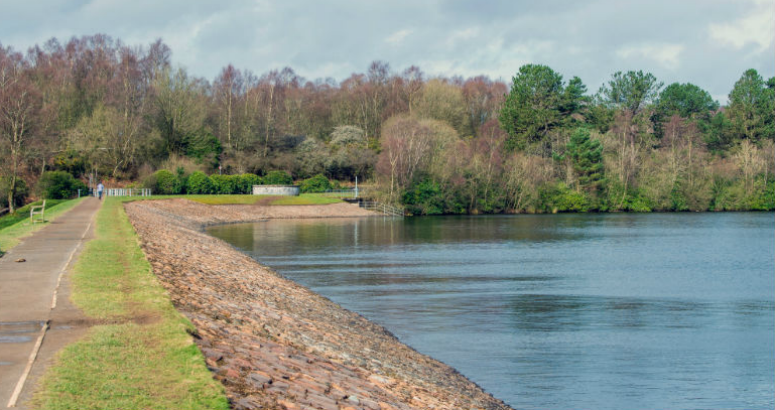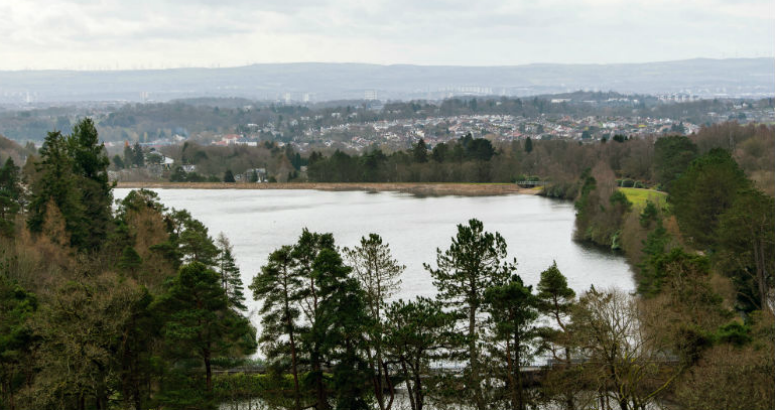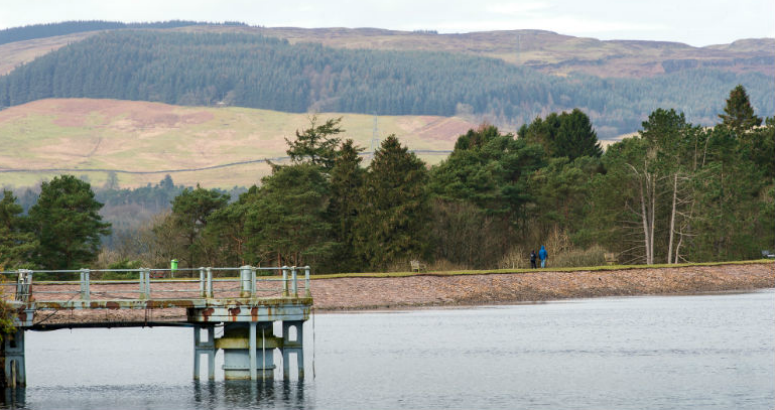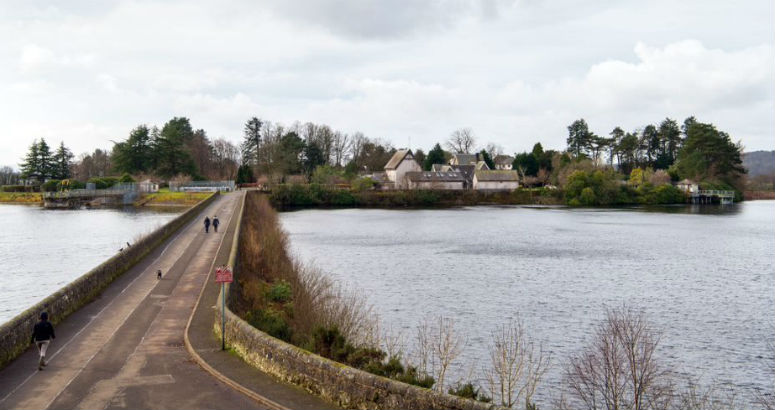 Craigmaddie and Mugdock Reservoirs
These reservoirs supply drinking water to 700,000 customers in Greater Glasgow. They are an important local beauty spot.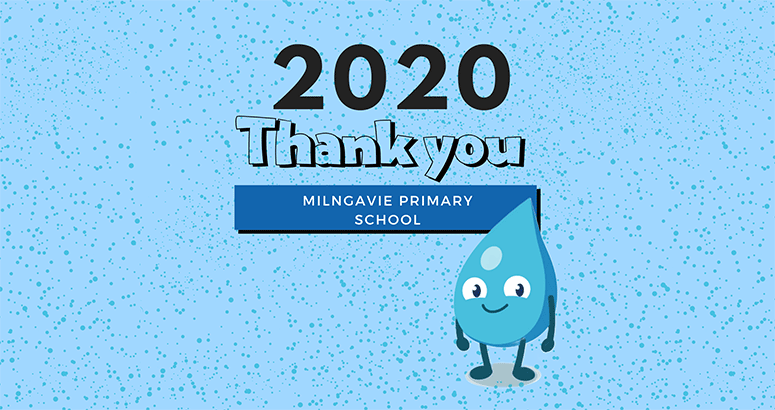 Poster Fun
Milngavie Primary School children got involved in our consultation process and created posters to show how much the reservoirs mean to them. We've created an eBook of their posters which you can see on the link below.
Overview
The Craigmaddie and Mugdock reservoirs in Milngavie are an important local beauty spot and recreational facility. The two reservoirs store drinking water supplying 700,000 customers in Greater Glasgow. The site which has historical, recreational and environmental significance attracts around 160,000 visitors per year.

In October 2019 we committed to a refreshed approach to how we maintain the site and to engage the community of reservoir users on its future and development. We made the following commitments:
To deliver a refresh of the site by the end of March 2020, making a visible difference to customers and visitors.
To deliver a step change in our approach to the upkeep of the site, working collaboratively to co-create development ideas and outcomes for the medium and long term.
To engage broadly and inclusively to reach a broad spectrum of stakeholders and reservoir users promoting fair and open two-way dialogue.
What's happened so far?
In 2020, We sought the public's views on two of our much-loved and well-visited beauty spots in the Milngavie area of East Dunbartonshire; Craigmaddie and Mugdock reservoirs.

The consultation, which was launched online, encouraged people with an interest in these two Scottish Water assets to give their views and help inform future plans for investment. More than 1,000 people took part.
A significant investment project is now underway at Milngavie Reservoirs to bring many improvements to the reservoirs and help enhance visitor experience. A ranger service has been introduced at the site, a defibrillator and a Scottish Water Top Up Tap have been installed and there are many more enhancements to come! Click here for more details.
Consultation Documents
You can read a summary of the consultation and view the brilliant work of Milngavie Primary School pupils in a specially created eBook, via the link below.
More Information
Keep up-to-date
We will continue to update this page with the latest information. You can also follow us on social media to keep up-to-date on our activities:

Twitter: @ScottishWaterWest
Facebook: @ScottishWater