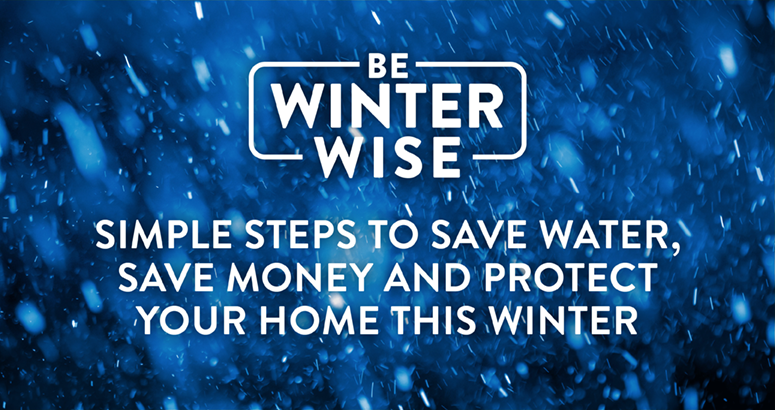 Be Winter Wise
Stay safe, warm & comfortable this winter
Save Water, Save Money & Protect your Home
This winter we want to help you stay safe, warm and comfortable.

We have prepared some simple steps to help you save water, save money and protect your home.

From insulating your pipes to avoid expensive leaks, to saving money by reducing your water use, to binning waste to avoid costly floods – there are lots of things we can do to get through winter together.
More information
To find out more information about Winter Wrapped Up visit our campaign website by clicking the link below
Visit the website
Protect your pipes
Pipes new or old don't like the cold, they can freeze, crack or burst which causes unwanted damage to homes. Insulating pipes can save a lot of hassle and money.
For more advice on how to protect your pipes click here.
Find your stop valve
If your pipes freeze or burst, you must locate the stop valve and turn it off immediately. It is commonly located under a sink (kitchen or utility room), in a garage or close to the hot water system.
For more advice on how to find your stop valve click here.
Warm yourself not the room
Keep warm with hot water bottles and lots of hot drinks through the day. But only boil the water you need – a mug of water will boil quicker and more cheaply than a full kettle.

For more advice on how to save water click here.
Winter walk safety
Please take extra care around waterways at this time of year. Reservoirs and lochs may look frozen but it's impossible to tell how thick the ice is, so please keep a safe distance.

For more advice on safety around our reservoirs click here.
Save on energy bills
Shorter showers can reduce your energy bills and save water, which is a win for you and our planet. Try taking just 2 minutes off your shower and save up to £130 off your annual energy bill.*

For more advice on saving on your energy bills click here.
Avoid blocks and floods
Stovies, soups and stews are great winter warmers for this time of year. But don't pour fats, oils or grease down the sink – when they cool, they congeal and cause blockages, which could lead to flooding.
For more advice on avoiding blockages click here.
Save water and money
Using a dishwasher or washing machine on its eco setting can save you money on energy and save water – which is good for the planet. Washing full loads make sense too, getting your money's worth out of each cycle.

For more advice on saving water and money click here.
*Home Energy Scotland: Annual saving, family of 4.