Investment in Loch Ness Water Network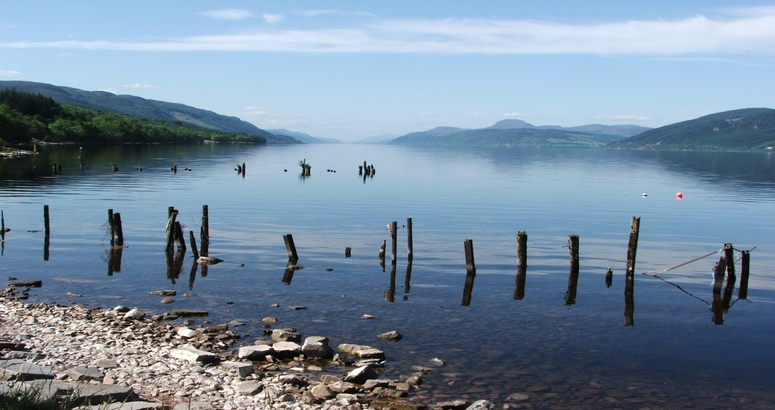 New water treatment works delivered to site
Work is progressing on the £21 million project to improve the water supply to customers in the Great Glen.
Why are we doing this work?
Scottish Water is delivering a £21 million project to provide a single, improved water supply to around 1250 customers in the heart of the Great Glen, as well as catering to significant seasonal demand in the area from tourism.
By 2020, a new state of the art Water Treatment Works will be in place just south of Invermoriston to provide the area with a high quality and plentiful supply of clear, fresh drinking water from Loch Ness.

What does the work involve?
The Loch Ness Project covers a range of different activities including the installation of a new water main along part of the Great Glen Way, the crossing of the river and canal in Fort Augustus and the installation of a new raw water intake from Loch Ness.

Each element, including the latest update, is detailed below.
Great Glen Way Water Main Installation
April 2019 saw the full route of the Great Glen Way re-open between Fort Augustus and Invermoriston after sections of the long distance path were closed in phases over winter to allow safe installation of a new water main to connect the two communities.

A series of signposted diversions were in place during this period for users of the path, with a shuttle minibus also provided between Fort Augustus and Allt na Criche during the most disruptive phase.

Thank you to route users, businesses and local residents for your patience and support while sections of the route were closed, with signposted diversions and alternative options in place.

Currently, there continues to be some localised construction activity and construction traffic operating on some sections of the route. Arrangements are in place to ensure this activity can take place safely with the route open to the public. Our team will seek to keep disruption to a minimum, but please take care and follow any instructions given so you can continue your journey safely.
A map showing the main section of the route where construction traffic will be operating is shown above.

Water Treatment Works Installation
Water storage tanks have now been delivered to site and installed . Each of these tanks will now be surrounded in concrete and backfilled.

The Water Treatment Works has now been delivered to site after being manufactured at Ross-shire Engineering's specialist factory in Muir of Ord, near Inverness. Work is now on-going to fit out the electrical and mechanical equipment, as well as progressing with other elements of the infrastructure for the site.

New Water Intake
Work has also been progressing at the new water intake site. The intake pipe installation and other associated marine works is now underway. We are working closely with SEPA and the Fisheries Boars to avoid the most sensitive times for salmon.

As this section of work progresses there will be a further update with regards required traffic management in the area, agreed with BEAR and Transport Scotland.

Canal and River Crossing in Fort Augustus
Work took place in late 2018 at the top of the canal locks in Fort Augustus in an effort to drill two 315 metre pipe crossings beneath the Caledonian Canal and the River Oich. The proposed new crossing will provide a greatly improved connection between the north and south of the village, as part of the wider package of improvements that is being delivered.

Difficulties were experienced during the drill with ground conditions beneath the Caledonian Canal. As a result, a new method has now been devised which will see an auger bore used to drive a 40 centimetre wide steel tube between two excavations either side of the canal. An underground drill will be used to cross the River Oich from a site near Jenkins Park to the excavation located between the canal and the river.

Work is due to start in September 2019 and is expected to take around 12 weeks to complete. We apologise that work in this area of the village will take longer than was originally anticipated.

More Information

Three information events were held in March, May and August 2018 to share details of our planned work with residents in Fort Augustus and Glenmoriston, answer questions and receive feedback.

You can download the information from our events from the Document Hub.

If you have any questions please email help@scottishwater.co.uk or call 0800 077 8778, quoting the reference Capital/403127/LochNess.We will continue to update this page as further updates become available.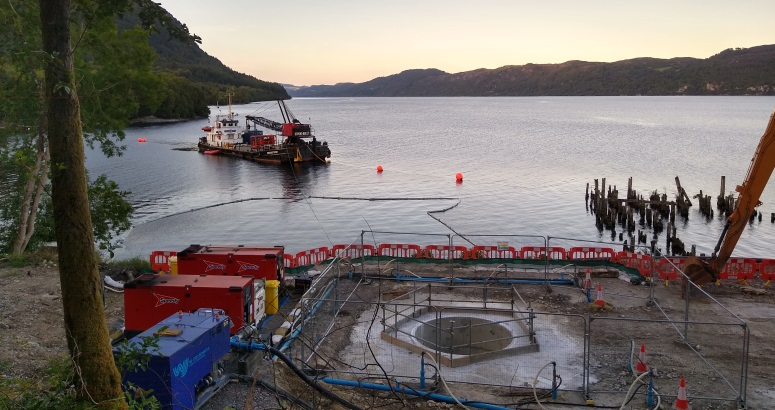 Water intake
Installation of the new raw water intake is underway at Loch Ness