Project Overview
This project involves the replacement of two sections of mains water pipe. One in Newtonhill Road, Newtonhill and a second in Cookston Road & Muirend Road, Portlethen. These works will allow us to continue to supply fresh, clean drinking water and to strengthen the infrastructure of the local network.
At a Glance
Investment: £520,000
Delivered by: Caledonia Water Alliance
Estimated completion for Newtonhill section: April 2022
Estimated completion for Portlethen section: Sept 2022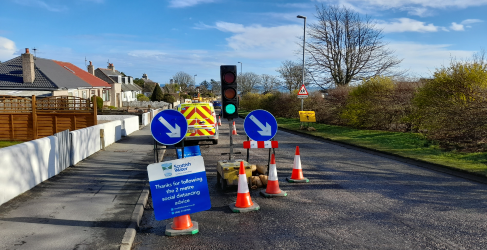 Temporary traffic lights are in place during Newtonhill works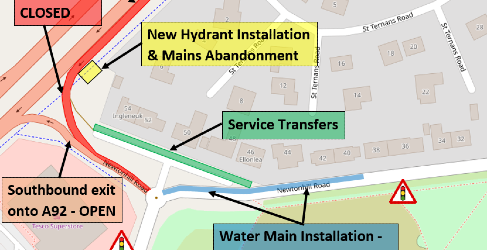 Areas of work during mains replacement - Phase 4
We are currently carrying out work to renew the water main in Newtonhill Road to continue to provide our customers with clear, fresh drinking water and to reduce the chances of pipes bursting.
Caledonia Water Alliance (CWA) are carrying out the work, which involves the replacement of approximately 600m of the main in Newtonhill Rd, Newtonhill, The second part of this project which will follow on from Newtonhill involves the replacement of another 700m of water main in Cookston Road & Muirend Road in Portlethen.
This investment will continue to ensure the supply of fresh, clean drinking water for this area, and minimise service disruption by strengthening the infrastructure of the local network.
Latest updates

for Newtonhill Section
Works are progressing as planned and entering Phase 4 of the project. This phase of the works involves the requirement to close the southbound slip road of the A92 into Newtonhill. The road traffic management measures start on Monday 28th March and last approximately 4 weeks.
During this phase of works the following will be in place:
Southbound Slip Road into Newtonhill – Closed (Diversion will be in place via Stonehaven AWPR Junction)
Lane Closure with 2-way traffic lights in Newtonhill Road
Southbound exit from Newtonhill onto A92 – Open
How might this affect me?
A92 Slip Road Closure Diversion
To allow us to carry out this phase of works as safely as possible we need to close the A92 Southbound Slip Road. This has been agreed in conjunction with Bear Scotland and Aberdeenshire Council. This is to prevent any possible back up of traffic onto the A92 caused by the temporary traffic lights near the top of Newtonhill Road and to allow a safe working area for the works next to the slip road.
The diversion will follow the A92 down towards the AWPR junction at Stonehaven and back up to Newtonhill. This diversion only affects the southbound slip road entering Newtonhill from the North. Please follow all signage in place.
Bus services will be affected during the A92 slip road closure. Details of this can be found below:
School Buses: Services 70A/70B/70C, operating between Newtonhill and Portlethen Academy, will operate as normal in the mornings. The p.m. journeys from Portlethen Academy to Newtonhill will follow the diversion south towards Stonehaven and return to Newtonhill to allow pupils to alight within the village. Pupils will not be dropped off at the bus stop on the A92 slip road. Please note that pupils boarding and alighting on Newtonhill Road will require to utilise the bus stops near Park Place, as the stops at St Crispin's Road will be out of use.
Local Bus Services: Stagecoach have confirmed that southbound journeys on Services 7/7A/7B/7S and X7, which currently serve Newtonhill, will not be able to operate into the village and will only serve the bus stop which is to be re-introduced on the southbound slip road, exiting Newtonhill onto the A92 (as shown on the map adjacent). However, passengers travelling on the Service 7B southbound journeys which currently terminate at Chapelton can opt to stay on the bus as it heads south towards Stonehaven and returns north, allowing them to alight at Chapelton Park and Choose, as well as within both Chapelton and Newtonhill villages. Northbound services are not affected and will operate as normal.
Old Bus Stop to be re-introduced (Temporarily): For further information relating to the bus services, please contact: Stagecoach Bluebird: 01224 597540 or Stagecoach East Scotland:0345 810 1000
Local access will be maintained where possible. Pedestrian access will be maintained at all times. Our site team will liaise with any customer if access is likely to be restricted in anyway.
Interruption to Water Supply
During this phase of work we may need to interrupt your water supply. If you are to be affected by any planned interruption to supply you will receive notification in advance, detailing date, times and what to do.