We have completed a £21M investment to upgrade the existing wastewater treatment works (WwTW) to ensure it complies with current EU directives to improve the water quality around River Don and Urie and to provide better capacity for the future.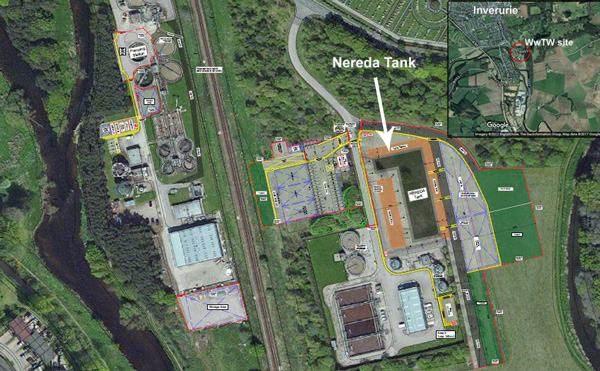 The new works was built within Scottish Water land where the existing works are utilizing state of the art technology which meaning the new works will have a smaller carbon footprint and will be more efficient.

The new WWTW uses an innovative process called 'Nereda', which is a new method of wastewater treatment, pioneered by several wastewater companies in the Netherlands.

This method has many benefits which include:
Compact and uncomplicated designs
Lower construction costs
Lower operation and maintenance costs
Treats wastewater to higher standard with no or minimal chemicals and related wastes
Significantly lower energy consumption
Reduction in odour
The award winning technology breaks sludge into granules which allow aerobic and anaerobic processes to take place simultaneously (aerobic granular sludge). This and the granules' faster settlement make treating waste water significantly faster and more efficient, while avoiding the need for pumps and mixers. It means less energy and less space is needed to treat a higher quantity of waste water, reducing the operating costs of the site.
It also removes the need to chemically treat the effluent, increasing the protection of the rivers Don and Urie, and provides the capacity to support the local community as it continues to grow and flourish.

For more information on how the Nereda process works watch this video here: https://youtu.be/mEw44xGG_no
3D model design


The image above shows the overall layout of the proposed Nereda tank and screens.
Watch a video of James Bex describing the 3D scanning process: 3D scanning Video
The project which began in September 2017, was completed in Spring 2019.
The project was delivered by our alliance partners ESD, a joint venture between Galliford Try, MWH Treatment and Black and Veatch.