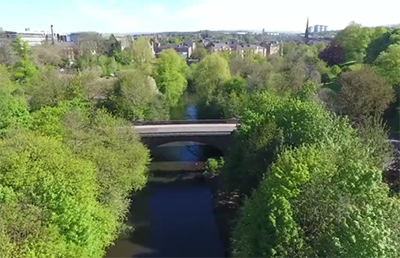 Overview
We're transforming Glasgow's waste water systems with a multi-million pound investment. The project will improve the environment at the River Kelvin. Our alliance partners amey Black and Veatch (aBV) will be carrying out the work.

Once complete, this new infrastructure will help prevent items which are wrongly flushed down the toilet – such as rags, baby wipes, plastic cotton buds, etc. - from overflowing into the River Kelvin.
The project requires upgrade work at 11 locations along or near the River Kelvin.
Watch our video about the project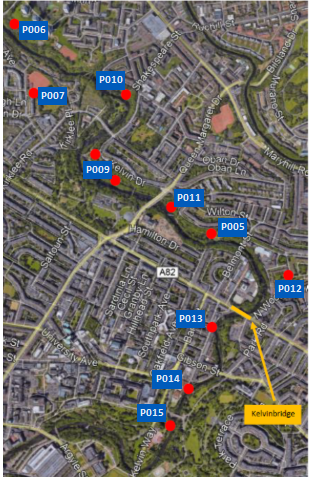 The Kelvin walkway will remain open throughout the works for cyclists and pedestrians either via short diversions or narrowing of the shared path.
What the work invovles
The upgrade requires the installation of mechanical screens on the overflow pipes which would prevent objects greater than 6mm (i.e. prevent rags, baby wipes, large plastic cotton buds etc) overflowing into the Kelvin during storm events. To install the screens, we would have to construct new underground chambers and pipework. At some locations there is also a requirement for small kiosks to house the electrical controls panel. We also need to abandon existing unsuitable outfalls.
Project Durations
Works started Summer of 2019
All projects are due to be completed by Autumn of 2022
What the preparation work invovles
Part of the preparations work include doing an archaeological dig just along from the old mill. This dig is more of a precautionary measure that we carry out to ensure the area the we propose to locate the underground chamber does not contain anything of significant archaeological value. From the desktop study we expect to find foundations of the old flint mill building. Part of this preparation work will involve the felling of some trees. We have tried to locate the infrastructure where possible to avoid mature trees. To make space for the new infrastructure we require to remove some trees.
Careful consideration has been taken and alternatives were sought during the project design in order to minimise the number of trees being removed. We compensate Glasgow City Council to plant three replacement trees in Glasgow for each one that is removed. We have also carried out ecology surveys and tree surveys before we started the project.
Reinstatement Plans
You can view our latest reinstatement plans along with other supporting documents as work is completed at various locations. If you would like to offer any comments on these plans, please feel free to drop us an email at CorporateAffairsWestTeam@scottishwater.co.uk
View Documents