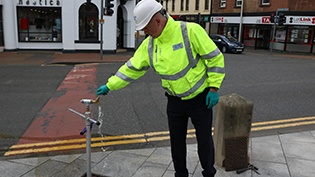 To protect the integrity of our networks, all users of water hydrants must obtain a Scottish Water standpipe licence to access our networks and draw water using our approved standpipes.
Standpipes cannot be used for Building Water purposes or on fixed premises, including temporary site portacabins/welfare facilities.
Each of our standpipes is fitted with an anti-pollution device to prevent back-flow and reduce the risk of contamination entering the public water supply.
They are distinctly coloured with our corporate colours, blue and purple, and tagged with an individual registration number.
Important Notice: It is an offence, under the Water (Scotland) Act 1980, Schedule IV, Paragraph 30, 31 32, and 33, to remove water from the Mains Supply via a Fire Hydrant, without prior approval. Anyone doing so will be prosecuted and liable to pay up to a £20,000 fine.
Further Information