Project Overview
Scottish Water is committed to continuing to support the protection and improvement of Scotland's rivers, coastal waters and beaches.

2023 is the second year that Lower Largo bay has been an official designated bathing water and Scottish Water continues to liaise with SEPA and others with regards to understanding the improvements needed to the waste water network and assets to meet Sufficient status as a minimum.

We have an on-going programme of work in Lower Largo, to understand any impact our waste water system has on the water quality and we are committed to working with SEPA and others to deliver any improvements identified as needed.
At A Glance
We are supporting the protection and improvement of Scotland's rivers, coastal waters and beaches
We are working to understand impact of the local drainage network on the water environment in Lundin Links and Lower Largo, to help bathing water quality.
We are looking for all interventions possible to help improve bathing water quality now and in the future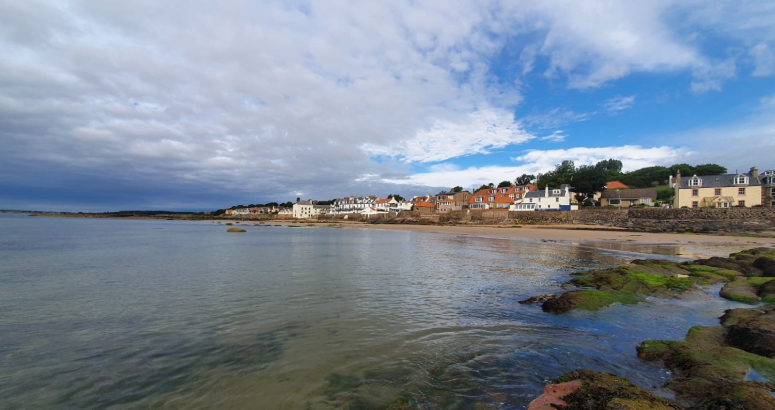 Lower Largo
Designated bathing water
Lower Largo - Bathing Water Study
We initiated the bathing water study in Autumn 2021 and the study follows the similar format to all other bathing water studies that Scottish Water have carried out.

A bathing water study is the most complex type of study that Scottish Water undertakes and usually requires 4 years worth of data for accurate modelling and analysis. This is to allow for natural variations in the seasons to be captured and accounted for in the model e.g. drier or wetter than average months which can impact bathing water samples.

However, we have attempted to accelerate the study for the community and try to calibrate the model on one year's worth of data, although there is a risk in doing this.

There are many strands to this work. We significantly increased the level of sampling (SW assets, watercourses and bathing water) to attempt to collect data to calibrate the bathing water model in one year.
Spring/Summer 2023:
As part of our ongoing study into the drainage network for the village we identified an anomaly in the way the network drains and connects to the Temple pumping station.
A number of properties had been historically mis-connected to the pumping station. We have been working on site since the end of July to fix this issue and can confirm it is now resolved.
We don't yet know how this has been impacting bathing water samples being collected, but it is likely to have been having a negative impact.
Next Steps:
Carrying out work at Temple pumping station to confirm issue and resolve
Run a model to inform impact of Scottish Water assets at Lower Largo
Identify options for improvements if assets are shown to be impacting
Provide improved communications to help explain process and understanding for all those who live by and visit Lower Largo bay
Community Engagement
Scottish Water is committed to working with the Lower Largo community.
On the 8th June we celebrated World Ocean Day with a visit to Lundin Mill and Kirkton Primary Schools. We spent the morning speaking to enthusiastic young people about:
Where their water comes from
Why we should use less and try and save water
How waste water is treated and where it goes
Our Nature calls campaign
All our customers can play a huge part in preventing debris in rivers and on beaches. Our national campaign 'Nature Calls' urges customers not to flush wet wipes (and other items) down the toilet and we are calling for a complete ban on the sale of wet wipes containing plastic.