Solar Photovoltaic
Solar Photovoltaic (PV) power is a clean energy technology which uses the planet's most plentiful and widely distributed energy source – the sun.
To help tackle climate change and reduce our carbon footprint we generate renewable energy through a programme of PV schemes installed at our treatment works and other assets across Scotland.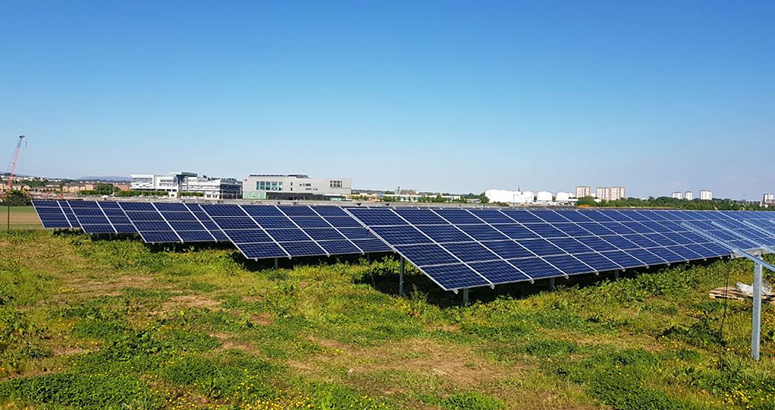 PV Scheme at Erskine
Our PV scheme hosts more than 1700 panels.
What are Photovoltaic Panels?
PV panels generate electric power using solar cells to convert energy from the sun into electrical power.
The direct current electricity produced from sunlight can be used to power equipment or recharge a battery. They can be at ground level, rooftop, wall-mounted or even floating.
Benefits of PV
After hydro and wind power, solar PV is the third biggest renewable energy source across the globe.
Solar PV generates no pollution or greenhouse gas emissions during operation
Schemes can be very large or very small
They can be stand alone or connected to the grid
PV at Scottish Water
To date 8 megawatts of PV power has been installed at over 42 of our sites, generating 6.3 gigawatt hours of renewable energy every year - that's equivalent to powering 1,900 homes.
One of our largest schemes is at Erskine Waste Water Treatment Works, where more than 1700 ground mounted PV panels have been installed. This PV scheme offsets around 15% of the electricity required to operate the works, generating around 0.36GWh of energy per annum – enough to power 100 homes for a year.