Wind
Wind turbines convert the wind's kinetic energy into electrical energy.
Wind is becoming an increasingly important source of renewable energy.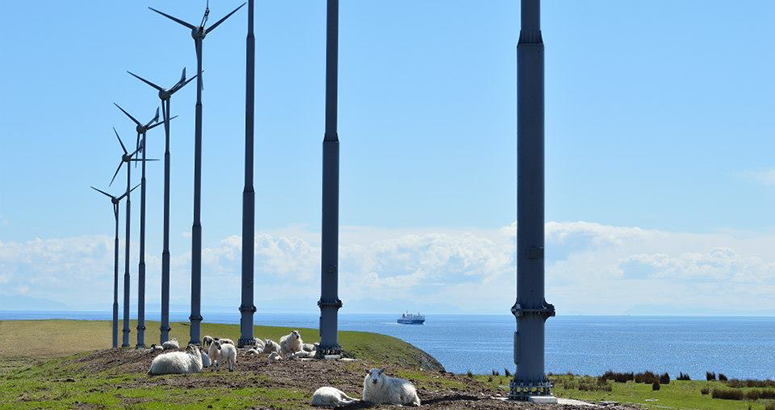 Wind Turbines on Stornoway
How Wind Turbines Work
Turbine blades rotate when hit by the wind. Even in a gentle breeze the blades of most turbines will start turning at around 3-5 m per second.
The spinning motion turns a shaft and a generator turns the kinetic energy of the rotating shaft into electrical energy. This energy passes through a transformer and is either used on site or is transported to the National Grid.
Benefits of Wind Power
In 2018 around 15% of the UK's electricity was generated from wind power, according to latest figures from the Department of Energy and Climate Change.
Scotland is the windiest place in Europe
The wind blows all year round so it's a reliable renewable power source
It's windiest in winter, producing more power when we use it most
Scotland has a brilliant location to harness on and offshore wind power to reduce reliance on fossil fuels
Wind power has a low carbon footprint
Wind Power and Scottish Water
We have installed 18 small scale wind schemes on our treatment works which help to offset the amount of electricity we buy from the grid.
We host more than 830 GWh of wind generation from private investment in renewables on our land at the Whitelee Wind Farm, SSE's Clyde Extension Wind Far and RedRock's Afton Windfarm.

These schemes bring benefits to local businesses and communities and we're working with Local Energy Scotland to deliver similar schemes in the future.
Wind Power on Fair Isle
In 2018 the Fair Isle community celebrated reliable 24 hour power for the first time with their new renewable energy system.
We supported a feasibility study looking at how the energy needs of the island's water supply would be met in the future.

The new island-wide high voltage network uses three wind turbines, ground mounted solar panels and battery storage.